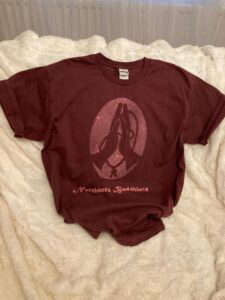 Northants Buddhists have launched a special bleach art T Shirt designed by Angel Hawkins which features an image of the mala held by praying hands and the group's branding.
A percentage of sales will be donated to the group which will help them to continue to support local good causes. .
T Shirts are available to purchase from group member Angel in Burgundy with Pink or Black with Orange.
Sizes: Small, Medium, Large, XL XXL, XXXL,XXXXL,XXXXXL
7 days Delivery
Price £10.00 including a £1.00 donation to our group's good causes.
Postage £1.50
To order please contact Angel by email: angel.priest@yahoo.co.uk