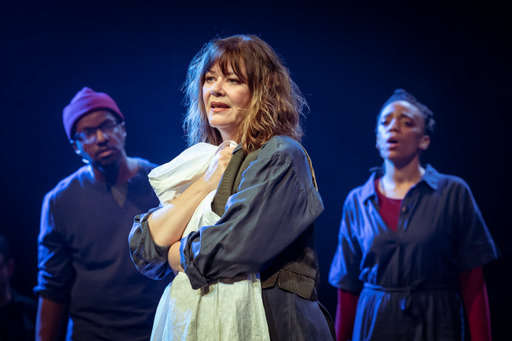 An Improbable Musical has arrived at Northampton's Royal and Derngate Theatre. This Made In Northampton production has been made with the support of Arts Council England's Ambition for Excellence Fund. Directed by Lee Simpson and starring Josie Lawrence, Niall Ashdown, Ruth Bratt, Adam Courting, Janet Etuk and Aya Nakamura.
Improbable are maestros of improvised theatre, who for three decades have created make-it-up-as-you-go-along shows that have captivated audiences across the world from off-Broadway to the National Theatre. It might be hilarious or heart-breaking, anarchic or eerily atmospheric but their first ever improvised musical aims to spin theatrical magic out of thin air. This is essential viewing for anyone who likes their theatre as live as it gets.
The show begins with members of the cast asking questions to the audience, the answers of these questions then navigate the course of the show. This show brings you to the edge of your seats at numerous moments, in anticipation of what is going to happen next.