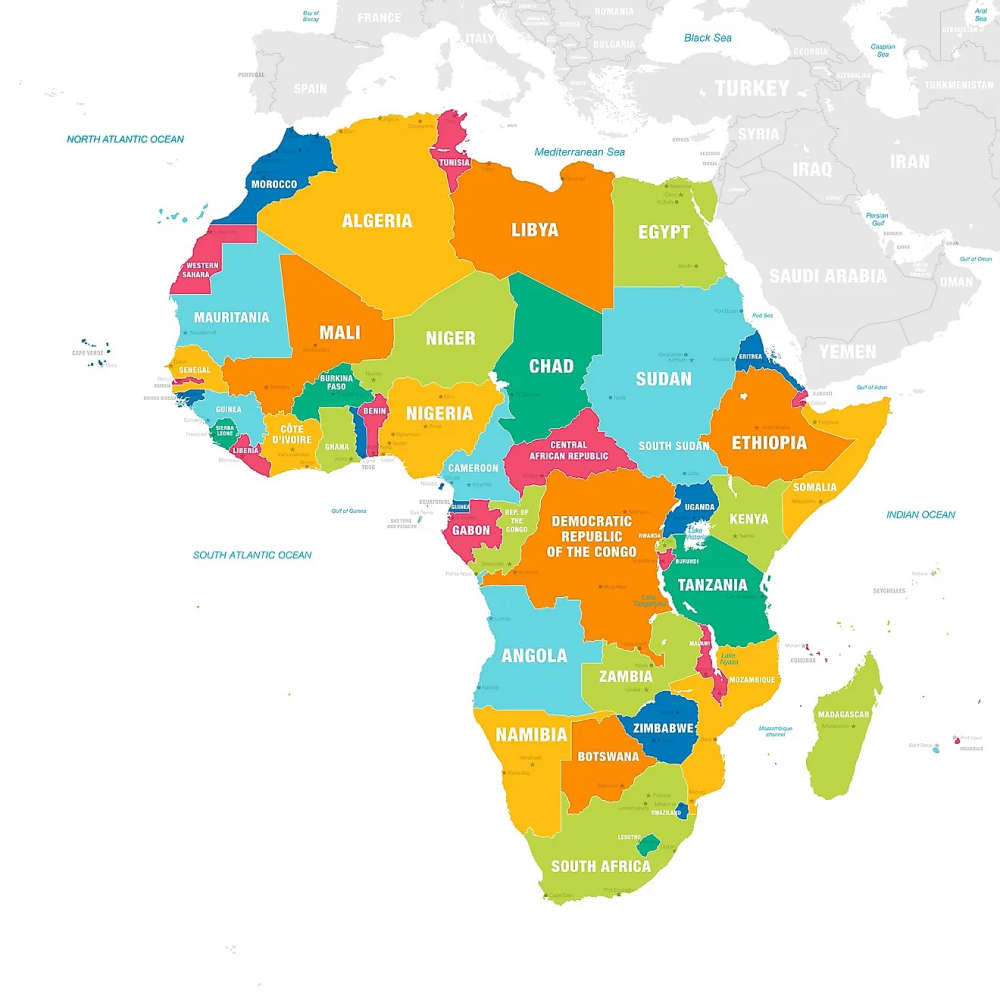 The latest news stories from Africa
Hear news for the African Community at 7am, 11am and 3pm every weekday on Revolution Radio
23/3/2023
America's White House has warned Uganda of possible economic "repercussions" if a new bill to crack down on homosexual activities become law.
The European Union has also expressed deep concern about it.
The bill proposes life sentences for people who identify as gay in Uganda. It also includes the death penalty in certain cases.
It is awaiting a presidential assent before becoming law.
The Marburg virus has killed five people in north-west Tanzania. It's the latest African country to have an outbreak of the virus which has killed hundreds of people almost all in Africa.
The highly-infectious disease is similar to Ebola, with symptoms including fever, muscle pains, stomach upset and, in some cases, death through extreme blood loss.
Kenyans have been asked to seek alternatives to maize as the country experiences a shortage of the staple food following a prolonged drought.
High prices for maize flour amid a cost-of-living crisis is at the centre of opposition protests that started on Monday.
20/3/2023
Votes are being counted in Nigeria a day after violence and delays marred the governor and states assembly elections in some parts of the country.
A few states, including Lagos, are allowing voting for a second day.
Some 800 candidates are contesting the influential governor and state assembly seats.
The poll comes three weeks after a contentious presidential election which the opposition allege was rigged in favour of the winner Bola Tinubu.
A South African accountant who was investigating high-level corruption cases has been shot dead along with his son.
Cloete Murray, 50, was the liquidator for Bosasa, a company implicated in numerous government contract scandals.
He also worked as a liquidator for firms linked to the wealthy Gupta brothers, who deny bribery accusations.
Police will see if there is a link between Mr Murray's murder and these corruption investigations.
Kenya's deputy president has introduced radical measures in a bid to reduce alcohol abuse.
He's said that in the country's central region, county governments should only allow one pub per town. Not everyone is convinced that it's a good plan.
15/3/2023
At least 190 people are now confirmed dead in Malawi after Tropical Storm Freddy ripped through southern Africa for the second time in a month.
Terrifying amounts of brown water have cascaded through neighbourhoods, sweeping away homes.
Malawi's commercial hub has recorded most of the deaths, 158, including dozens of children.
Riot police have outraged many in Mozambique by firing tear gas at mourners and well-wishers who were accompanying the coffin of popular rapper Edson da Luz, better known as Azagaia.
Hundreds of people have been marching in the funeral procession in the capital, Maputo, which police diverted.
Morocco hopes to become the second African nation to host the 2030 World Cup.
The country has announced its intention to bid for the football tournament. It will be the sixth time the country has aimed to host the competition. This time though it will mount a joint bid with Spain and Portugal
10/3/2023
The governor of Nigeria's Lagos state, Babajide Sanwo-Olu, has called for people to come forward and donate blood as medics treat those wounded in a collision between a train and bus on Thursday that killed six people.
85 passengers were on board the bus carrying civil servants to work when it was hit by a commuter train during the morning rush hour in the Ikeja area of the city.
Uganda's parliament is considering a draft law that criminalises anyone identifying as LGBTQ+, and threatens them with 10 years in jail.
The bill also threatens landlords who rent premises to gay people with a prison sentence.
It is the latest sign of rising homophobia in a country where homosexual acts are already illegal.
South African trackers are trying to find a lion that is on the loose outside the capital, Pretoria.
Technology such as drones was being used to track down the animal that had been spotted near a popular hiking trail about 19 miles west of the city
7/3/2023
The archbishop of the Anglican Church of Kenya has said England will no longer be the leader of the global Anglican Church following a change in teaching to allow priests to marry same-sex couples.
Archbishop Jackson Ole Sapit told a local television station that the Church's teaching that homosexuality is a sin would not change.
A man who sold potato chips cooked in dirty machine oil from a power transformer has been sentenced by a court in Kenya.
Elijah Muthoga was arrested just over a year ago in possession of 11 litres of the oil at a hotel he runs in Nyandarua County.
Hundreds of children under the age of five are to be vaccinated in western Kenya, as the health ministry rolls out its programme to five counties there.
The vaccine was first introduced in 2019, helping to bring down the number of children being hospitalised or dying of malaria.
The Tanzanian government has banned boarding at nursery and lower years at primary schools, saying their aim is to give children the opportunity to bond with their families - understanding the traditions, cultures and values of the country.
2/3/2023
Ruling party candidate Bola Tinubu has been declared the winner of Nigeria's disputed presidential election.
The 70-year-old veteran politician got 37% of the vote, official results show.
His main rivals had earlier dismissed the poll as a sham, and demanded a rerun.
Mr Tinubu urged them to accept the result, but Labour said it was taking legal action to annul his victory.
Flooding in Mozambique has isolated the town of Mabote in the southern province of Inhambane, with the Mapinhane-Mabote road, the only land connection to the rest of the province, cut off.
Provincial roads official Dady Mendes explained that heavy rains that hit the province after the landfall of tropical cyclone Freddy made it difficult for vehicles and people to move around.
And Tottenham's Kallum Cesay and Middlesbrough's Kamil Conteh are targeting a place at the Africa Cup of Nations (Afcon) after opting to represent Sierra Leone.
The players who are both 20, were born in London but have links with Sierra Leone through their parents.
23/2/2023
There's been heavy damage to buildings, along with power cuts and flooding in eastern Madagascar as Cyclone Freddy struck the region.
Four people are reported to have been killed, among them a 77-year-old man who drowned near the town of Mahanoro where roofs were torn off buildings.
The African Games, scheduled to take place in Ghana in August, have been postponed until next year after an agreement between major stakeholders running the multi-sport competition.
Ghana's efforts to host the 13th edition have been hampered by an ongoing disagreement over marketing rights, which has delayed the completion of the required facilities.
Tanzania has banned the children's books The Diary of a Wimpy Kid
The country's minister of information has said the move came because some pages were "pushing agendas against our culture"
He said the government had faced a dilemma about how to separate the pages they didn't approve of from the rest of the book.
He added that criticism about the banning of the books did not come from parents in Tanzania but from oustide the country.
17/2/2023
Ghana's bid to get out of an economic crisis has pushed the government to adjust the savings of the country's pensioners, triggering protests and picketing of some pensioner bondholders.
The government's hope to qualify for £2.5bn in IMF bailout money requires it to bring the country's debt to a sustainable level.
It desperately needs a deal with the IMF as the country faces its worst economic crisis in decades.
Pensioners who have invested in the government's bond fear they could lose their money or part of it.
The authorities in Somalia say their troops have killed 300 al-Shabab militants in the south of the country.
They say the operation, in Hirshabelle province, was supported by air strikes involving international partners.
South African President Cyril Ramaphosa has announced the resignation of his deputy, David Mabuza, thanking him for his "unwavering support" over the last five years.
And Israeli hackers allegedly hacked into the private conversation of two aides to Kenya's President William Ruto during last year's election, a new investigation has claimed.
14/2/2023
A church leader in Nigeria who carried an assault rifle during a Sunday sermon about "spiritual weapons" has been arrested.
The police officer who owned the gun has also been detained, along with the church's head of security.
Pastor Uche Aigbe earlier apologised "unreservedly", according to his church.
The House on the Rock Church in Abuja said the Pastor had apologised unreservedly and "realises that even with the best of intentions, carrying a gun to illustrate his message was ill-advised and regrettable".
Under Nigerian law, it's only legal to carry a gun if the Inspector General of Police grants you a licence.
In Chad, more then 450 rebels have gone on trial for terrorism in connection with the death of President Idriss Déby.
He was killed in April 2021 whilst fighting a rebel offensive launched from Libya.
The hearing is taking place inside a prison where almost 400 of the accused are being held.
They're all believed to be members of the rebel Front for Change and Consensus in Chad group.
9/2/2023
Algeria, Egypt and Tunisia are among African Union countries that have sent aid and technical assistance to the Turkish-Syrian border.
Kenya has committed to sending aid and called on trained medical workers to volunteer their services.
Africa's largest non-governmental humanitarian organisation, Gift of the Givers, has also dispatched teams of rescue workers and equipment to help the huge international rescue effort.
The authorities in the Democratic Republic of Congo say the number of people killed during the latest protest against UN peacekeepers has risen to eight, with 28 others injured.
The military governor of North Kivu province said the peacekeepers fired in self-defence when protesters attacked their convoy as it was returning to the city of Goma on Tuesday evening.
Several UN trucks were set on fire and looted.
Zambia's President Hakainde Hichilema has commuted the death sentences of 390 prisoners to life imprisonment.
The announcement follows Mr Hichilema's decision last December to abolish the death penalty.
Home Affairs Minister Jack Mwiimbu told a media briefing that following the amendment of the penal code, no court could now impose the death penalty.
7/2/2023
More than 100 people have been killed after a militia attacked their village in Katsina state in northern Nigeria, residents say, although the state government says the exact number is unknown.
Witnesses said there had been "more than 48 hours of fighting" between vigilantes and the "bandits" since Thursday last week.
Doctors in the self-declared republic of Somaliland say heavy fighting has killed at least 30 people.
Residents of Las Anod say they heard gunfire for more than six hours.
Somaliland broke away from Somalia in 1991 but has not been internationally recognised.
Social media giant Meta, which owns Facebook, WhatsApp and Instagram, has failed to stop a Kenyan court from hearing a case that alleges poor working conditions at the company.
Meta wanted the case dismissed, saying that Kenyan courts have no jurisdiction because Meta is not domiciled in, nor does it trade from, Kenya, but a judge rejected the argument.
2/1/2023
At least two people are facing murder charges in Uganda following separate incidents in which two fans of English Premier League club Arsenal were killed after clashes over football results.
A youth councillor in the capital Kampala died from stab wounds after stepping in to break up a fight which followed Arsenal's defeat to Manchester City in the FA Cup on Friday, police said.
Allan Kakumba was rushed to the national referral hospital in Mulago following Sunday's knife attack but died moments after admission.
Police said in a statement that two suspects were in custody.
Threats by pressure groups in Malawi to escalate anti-government protests have precipitated a cabinet reshuffle by President Lazarus Chakwera.
His administration has been beleaguered by widespread claims of nepotism and corruption, as well as a failing economy.
Kenya's government has officially recognized the stateless Pemba community as an ethnic group.
President William Ruto said the decision was taken after considering petitions by various parliamentary committees.
The recognition will allow community members to access education, health care, social care and jobs.
The more than 8,000 community members - who have settled in Kenya's coastal counties have been stateless for decades.
31/1/2023
Eight people have been killed and three others injured during a mass shooting at a birthday party in Gqeberha city in South Africa's Eastern Cape Province.
Two unidentified gunmen "randomly shot at guests" who were dancing and mingling at a house party in Kwazakhele township, police say.
Vusumzi Sishuba, who was celebrating his 51st birthday, is among the dead.
Nigerian LGBTQ rights campaigner, Davis Mac-Iyalla has been made a traditional chief by a community living in Ghana's central region.
He was installed as Amankorehen, also known as development chief, of Yamonransa Nkusukum area.
The role is given to people, including foreigners, seen to be able to promote activities that can accelerate development in the area.
There was heavy police presence during the ceremony.
He said he will use his new title to fight for human rights.
And an Injury has ended a record run of appearances in La Liga for Ghana star Inaki Williams.
The 28 year old's record run of 251 consecutive games for Athletic Bilbao has come to an end after the forward picked up a rare muscle injury.
25/1/2023
Tems has become the first Nigerian musician to be nominated for an Oscar award, for her role in creating Rihanna's song Lift Me Up from the Wakanda Forever soundtrack.
It's the latest accolade for the singer-songwriter - who has been shortlisted for a Golden Globe and Grammy in recent months.
This time around it's her writing that's up for an award - along with Ryan Coogler, Ludwig Göransson and Rihanna.
Tems has yet to comment publicly on the news, but fans of the star have been congratulating her on social media.
The World Health Organization (WHO) has urged member countries to take immediate action on sub-standard medicines to prevent child deaths.
Since October, seven countries have reported incidents of contaminated medicines.
Last year, 300 children in total died aged five and younger in The Gambia, Uzbekistan and Indonesia after taking sub-standard medicines that caused acute kidney injuries.
Zambian student Lemekhani Nyirenda, who died last year while fighting for Russian forces in Ukraine, is due to be buried today (Wednesday).
Nyirenda was serving a drugs-related prison sentence in Russia but was freed on condition of signing up and and then deployed to the front lines in Ukraine. He died in September.
23/1/2023
A US air strike assisting government troops in Somalia has killed about 30 Islamist al-Shabab militants, the US military says.
The operation happened near the town of Galcad, about 260km (162 miles) northeast of the capital Mogadishu.
Over the past few days, the Somali army and al-Shabab militants have fought for control of the town.
Friday's air strike came as the army was being attacked by more than 100 militants, the US Africa Command says.
The government of Cameroon and different groups involved in the separatist conflict in the country appear to have been taking part in secret talks aimed at resolving the situation.
There has been no comment from the parties involved but Canadian newspaper La Presse quotes an anonymous source in Prime Minister Justin Trudeau's office as saing that there had already been three "secret meetings".
The five-year conflict in Cameroon's two English-speaking regions of North-West and South-West has claimed thousands of lives, while forcing more than one million to flee to French-speaking areas and a further 80,000 to take refuge in next-door Nigeria.
Nigerians have been urged not to worry about the recent outbreak of diphtheria in the country
The head of the Nigeria Centre for Disease Control and Prevention (NCDC) Dr Ifedayo Adetifa said various antibiotics and treatments are readily available to curb infections.
His comments come after news that at least 25 people have died in the northern state of Kano from the bacterial infection, with 33 more cases reported in other parts of the country, including the commercial hub of Lagos.
Diphtheria symptoms include fever, a sore throat, a cough and breathing difficulties. Infected patients may also develop a swollen neck, red eyes (conjunctivitis) and have a thick grey or white patch on the tonsils or at the back of the throat.
The infection is spread by coughs and sneezes, or by sharing items such as cups, cutlery, clothes or bedding with an infected person.
18/1/2023
Nigeria's general election will go ahead on 25 February despite concerns about a postponement because of insecurity in parts of the country, election chief Mahmood Yakubu has said.
This was despite warning a week ago that rising insecurity could force the polls to be cancelled or delayed.
Prof Yakubu was speaking at an event organised by the Chatham House think-tank in London.
Nigerians are set to elect a new president at the end of February, then will elect governors and local councils two weeks after.
These elections come as the country is experiencing a spate mass kidnappings, banditry, religious and ethnic tensions as well as violent agitations for independence in several parts of the country.
Market traders in the capital of the Democratic Republic of Congo have expressed dismay at being forced to dismantle their stalls ahead of a visit by Pope Francis.
Officials in Kinshasa say they're making the streets clean and tidy in time for the Pope's arrival at the end of the month.
Some traders complained that the police - using crowbars and bulldozers - had been heavy-handed. They also said many people had lost all their goods.
The International Police Agency, Interpol, has issued a "red notice" for foreign nations to arrest a military officer accused of plotting to overthrow the government in The Gambia last month.
The "red notice" for the low-ranking Gambian officer, Lamin Jadama, means that eight officers have now been identified as suspects in the alleged coup plot.
16/1/2023
The government of the Democratic Republic of Congo has blamed Islamic State group-affiliated rebels for a bomb attack at a Pentecostal church in Kasindi, in the east of the country.
Ten people were killed as church-goers attended Sunday worship, officials say.
At least 39 were wounded and the Congolese military described it as a "terrorist act" by the Allied Democratic Forces (ADF).
Some 50 women have been abducted by suspected jihadists in northern Burkina Faso, local officials say.
Residents in Arbinda said two groups of women were taken as they were out gathering leaves and wild fruits because of a severe food shortage.
A small number managed to escape and raise the alarm.
The abductions happened on Thursday and Friday, but news has just emerged, as much of the area has been blockaded by Islamist militants.
Thousands of Tunisians have demonstrated against President Kais Saied as the country faces a deepening political and economic crisis.
A crowd gathered in the capital Tunis to demand the end of his government.
Tunisians who supported Mr Saied since he came to power in 2021 have grown increasingly frustrated with the state of the economy.
The anti apartheid activist, Frene Ginwala, who became the founding speaker of South Africa's first democratically elected parliament, has died at the age of 90.
During the 1960s and 70s she lived in exile in Mozambique from where she helped many prominent members of the banned African National Congress (ANC) escape abroad.
Ms Ginwala also travelled around the world drawing international attention to the abuses of the apartheid era.
11/1/2023
Thousands of mourners have attended a highly emotional state funeral in The Gambia for leading opposition activist Ebrima Solo Sandeng.
The funeral comes nearly seven years after he was tortured to death by intelligence agents from former President Yahya Jammeh's regime.
Uganda has declared an end to an Ebola outbreak that killed more than 50 people.
The announcement follows a 42-day period without any new confirmed cases.
The outbreak, which began last September, caused particular concern as it was caused by the Sudan strain of Ebola, for which there is no vaccine.
Tigrayan forces in northern Ethiopia have started handing over heavy weapons in line with a peace deal to end a brutal civil war.
The African Union (AU) said it was "a step in the right direction" to end the two-year-long conflict.
Hundreds of thousands of people are estimated to have died from starvation, a lack of medical care, and fighting.
The conflict broke out following a massive fall-out between the regional and federal governments.
9/1/2023
Tens of thousands of people have poured into Ghana's iconic Black Star Square of Independence to witness the maiden edition of the Black Star Line Festival.
The event - which took place in the heart of the Ghanaian capital, Accra - was founded by Chicago-born Ghanaian Vic Mensa and Chance The Rapper and featured a host A-list acts from both sides of the Atlantic in a bid to unite the country and its diaspora.
International stars, including multiple Grammy award winners Erykah Badu, T-Pain and Chance The Rapper, were joined by Ghanaian legends like Sarkodie, Manifest and The Asakaa Boys at a festival to mark the event, which has also seen a weeklong series of events and panels.
Four people have now been arrested in Kenya over the brutal killing of LGBTQ activist and fashion designer Edwin Chiloba, police say.
Rights groups have linked the killing to his sexuality, but the motive is still unclear.
Police said on Friday they had detained his long-time friend over his death and described them as the main suspect.
A collision between two buses in central Senegal has left 40 people dead and dozens injured.
Preliminary investigations suggested that one of the buses suffered a burst tyre and collided head-on with an oncoming bus, officials said.
President Macky Sall has declared three days of mourning and has promised to take measures to improve road safety.
23/12/2022
The Gambia's government says it has thwarted an attempt to stage a coup.
Four soldiers had been arrested and three alleged accomplices were on the run, a statement said.
It is unclear who exactly was behind Tuesday's attempt to overthrow President Adama Barrow, who won a second term in elections last year.
The Gambia is a largely stable country in West Africa which is popular with holidaymakers because of its beaches and wildlife.
The capital, Banjul, is peaceful, with life going on as normal.
No gun shots have been heard, and there is no sign that loyalist forces have been deployed to secure strategic sites.
The former head of Cameroon's public broadcaster has been sentenced to 12 years in prison.
Amadou Vamoulké was convicted by a court in the capital, Yaoundé, of embezzling money and awarding staff salary bonuses without authorisation.
The 73-year-old denied any wrongdoing.
He has already been in detention for more than six years and his trial, which was widely criticised by human rights groups has been inexplicably adjourned more than 100 times
A man's body was been found in the undercarriage of a plane at Gatwick Airport which arrived from The Gambia.
The Tui flight had travelled from The Gambia's capital Banjul to the airport in West Sussex.
Sussex Police said the discovery was made at the airport at about 04:00 GMT on 7 December.
20/12/2022
South Africa's scandal-hit President Cyril Ramaphosa has been re-elected as the governing ANC's leader to wild cheers from his supporters.
He defeated his rival Zweli Mkhize by 2,476 votes to 1,897.
Mr Ramaphosa won despite being dogged by allegations of money laundering, and a last-minute surge in support for Mr Mkhize, who has also been accused of corruption. Both deny the allegations.
His victory puts him in pole position to lead the ANC in the 2024 election.
A Nigerian High Court in the capital, Abuja, has found the campaign leader for high-profile presidential candidate Peter Obi guilty of money laundering.
Doyin Okupe was, among other charges, convicted of receiving over $400,000 (£330,000) from an individual without following the correct procedures.
This is likely to deal a major blow to the presidential campaign of Mr Obi.
He has presented himself as a break with previous leaders and parties tainted by corruption.
The elections are due in just two months' time. Okupe is the director-general of Mr Obi's campaign organisation and a key ally.
Sudanese security forces in the capital have fired tear gas and stun grenades to disperse thousands of people protesting against military rule.
The demonstrators marched towards the presidential palace but were chased away by police.
They dismissed a deal signed recently between the military and civilians, saying it was too vague.
The protest took place on the fourth anniversary of the start of an uprising that toppled Omar al-Bashir.
He had been in power for three decades before he was forced out in April 2019.
The short-lived transition to civilian rule ended two years later, when the military staged a coup.
19/12/2022
A woman has died after being injured in a crush at a gig at London's Brixton O2 Academy that left several others hurt.
The concert, by Afro-pop singer Asake, had to be abandoned part-way through after a "large number of people" tried to force their way inside on Thursday, the Met Police said.
Mother-of-two Rebecca Ikumelo, 33, from Newham, east London, died in hospital on Saturday morning, the Met said.
Her family said she was a nursing graduate known for "care and kindness".
Two other women aged 21 and 23 remain in a critical condition, police added.
Asake said he was "overwhelmed with grief" and "devastated" by her death.
The artist said he had spoken to Ms Ikumelo's family and asked people to "keep them in our prayers".
Tunisia's main opposition coalition has said President Kais Saied must resign after fewer than 9% of eligible voters took part in parliamentary elections.
The National Salvation Front head, Nejib Chebbi, said Saturday's poll was a "fiasco", calling for mass protests to demand snap presidential elections.
The vote was boycotted by most opposition parties.
In the latest sign of the deep crisis that has engulfed Ethiopia, conflict in the vast Oromia region - the heartland of Prime Minister Abiy Ahmed - is escalating as political and ethnic tensions explode.
It has seen Oromo Liberation Army (OLA) rebels raid towns that were once out of their reach, and hold "graduation ceremonies" to boast of new recruits, while the government has responded with troop reinforcements and drone strikes as it rules out talks to end the crisis.
Adding to the dangerous cocktail, much-feared militias from the rival Amhara ethnic group are widely believed to have crossed into Oromia to fight the rebels.
16/12/2022
Three people remain in a critical condition after being injured in a crush at a gig at the Brixton O2 Academy that left several hurt.
One witness estimated 1,000 people turned up to the gig without tickets.
The concert was the third of three sold-out shows at the venue by Nigerian Afrobeats singer Asake, sometimes known as Mr Money. Before the gig, he had posted on Twitter asking fans not to try to gain entry unless they had tickets.
In a statement on his Instagram account, Asake said: "My heart is with those who were injured last night and caused any form of discomfort. I pray you get well soonest."
Jacob Zuma is to sue South Africa's President Cyril Ramaphosa ahead of the ANC conference
The case concerns whether details of Mr Zuma's medical condition were improperly shared.
The last French troops deployed in the Central African Republic left the country on Thursday following a cooling in relations caused by closer ties between Bangui and Moscow.
14/12/2022
MPs at a special sitting of South Africa's parliament voted to reject a move to begin impeachment proceedings against President Cyril Ramaphosa.
The president was accused of covering up the theft of a large sum of foreign currency from his farm in 2020, some of which had been hidden in a sofa.
The debate before the vote focussed on an independent report which concluded he may have violated the constitution.
Mr Ramaphosa, who is up for re-election as ANC leader, denies any wrongdoing.
Nigerian star Tems has been nominated for a Golden Globe award in the US, for her role in creating Rihanna's song Lift Me Up from the Wakanda Forever soundtrack.
It's the latest accolade for the singer-songwriter, who was last year nominated for a Grammy for her performance with fellow Nigerian Wizkid on the song Essence.
This time around it's her writing that's up for an award - along with Ryan Coogler, Ludwig Göransson and Rihanna.
The world's only nonuplets - nine babies born at the same time - have safely returned home to Mali after spending the first 19 months of their lives in Morocco.
The babies broke the Guinness World Record for the most children delivered in a single birth to survive.
Ahead of the birth in May 2021, the mother Halima Cissé, now 27, was flown to Morocco for specialist care.
Before returning they had been living with medical support in Casablanca.
12/12/2022
A former Mozambique president's son has been jailed for concealing debt.
Ndambi Guebuza, the son of former president Armando Guebuza, was sentenced to 12 years in prison after being found guilty, along with 10 other people, on charges related to a corruption scandal in which the government concealed large debts, crashing the country's economy.
Those found guilty also included two top intelligence service officials - Gregorio Leao, the former head of the economic unit and Antonio do Rosario, who headed three state-owned firms that illicitly borrowed billions.
The bodies of 27 people, believed to be migrants from Ethiopia, have been found apparently dumped by a roadside in the north of Zambia's capital Lusaka.
Police Spokesperson Danny Mwale told the BBC it was likely they suffocated to death while in transit. One survivor was found "gasping for air" and has been rushed to a local hospital, he said.
Zambia is a transit point for migrants, mostly from the Horn of Africa, who want to reach South Africa.
Maasai youths in Kenya have come together for a sports competition, created as an alternative to the group's annual lion hunt - a traditional rite of passage.
Hundreds competed in various games in the foothills of Mount Kilimanjaro, including spear throwing, athletics and high jump.
For generations, Maasai warriors were expected to fight and kill a lion as part of a ritual centred around their transition to manhood.
But after the number of large cats began plummeting in Africa, environmentalists and the group's elders founded the so-called Maasai Olympics.
8/12/2022
Uganda has received 1,200 experimental vaccine doses designed to work against the Sudan strain of the Ebola virus that will be used in scientific trials.
The country has confirmed 142 cases of the Sudan strain, with 55 deaths, since it announced an outbreak of Ebola in September.
Currently, there is no vaccine proven to be effective against this strain of the virus..
The vaccine will be given to people who have been in contact with those who tested positive.
A UN investigation has found that at least 131 people were killed at the end of November in the eastern Democratic Republic of Congo at the hands of the M23 rebel group.
It says investigations have confirmed the deaths of the civilians in two villages.
The UN says the victims were executed in what appears to be a reprisal to the current government offensive.
Nigerian Afrobeats star D'banj has been arrested over allegations of fraud after millions of dollars meant to help unemployed youths start businesses was reported missing.
The artist, who has claimed to be the brand ambassador for the scheme, has turned himself in.
6/12/2022
Somali forces, allied militias capture major town from al Shabaab
Somali forces and allied militias have pushed al Shabaab fighters out of a strategic town in central Somalia that the group has controlled for six years, officials said.
The government, backed by African Union troops and clan militias, said it has killed around 700 members of al Shabaab and recaptured scores of settlements as part of a months-long campaign to loosen the al Qaeda-linked group's control over large swathes of the country.
Congolese government ups toll in massacre to 272 civilians
Democratic Republic of Congo's government said 272 civilians were killed in a massacre in the eastern town of Kishishe last week, raising the death toll from a previous estimate of 50.
The government blamed the killings on the M23 rebel group, which has denied responsibility. It also said the rebels were backed by members of the Rwandan army, a frequent accusation by the Congolese government which Rwanda has consistently denied.
Congo's army and the M23, a Tutsi-led militia, have been locked in fighting for months in the country's east.
Cape Town Hank's Old Irish Pub called out for a racist incident
And an Irish pub in Cape Town has been called out on social media for a racist incident after a video has gone viral.
In the clip, Christopher Logan is confronting the owner, after his friend Thabiso Danca was denied entry.
He claims the bouncer said that according to the pub's admission policy he needed to be accompanied by a white person.
5/12/2022
Jailed ex-Sudanese president Bashir hospitalised
The jailed former Sudanese president Omar al-Bashir has been admitted to hospital, his lawyer has said. It's not known what condition he is being treated for.
Meanwhile, Sudan's military leader General Abdel Fattah al-Burhan confirmed that talks on a new political framework for the country were being held, but he warned the former ruling party in harsh words not to interfere with the military or in politics.
Mali's prime minister Choguel Maiga has been reinstated after his medical leave
He's returned to work after being off for three months following being ordered to rest by his doctor in August.
Maiga has been one of the government's most outspoken voices in repeated public rows with West African neighbours and international allies who criticised its military cooperation with Russian mercenaries and repeated election delays.
West African leaders said on Sunday they would establish a regional peacekeeping force to intervene in member states to help restore security and constitutional order.
The region has been trying to shed its reputation as a "coup belt" following several coups in the past two years.
2/12/2022
A Nigerian university student has been arrested and charged with defaming President Muhammadu Buhari's wife Aisha on Twitter.
Aminu Adamu Mohammed is accused of tweeting a picture of her with a comment in the Hausa language that roughly translated accused her of embezzlement.
The 23-year-old undergraduate is accused of spreading false information but denied the charge in court.
He is due to start his final exams on Monday but it's unclear whether he will be able to do so, as he is still in detention.
Zambia's leader has said he plans to sell the presidential jet his predecessor bought in his last months in office in controversial circumstances.
Hakainde Hichilema said he wants to recover $193m that was spent to buy the Gulfstream 650.
But selling the plane won't be straightforward as the Zambia Air Force has said it's a military asset, not a public one.
However, this has not stopped the anti-corruption body from launching an inquiry.
The drowning of the three-year-old son of Afrobeats star Davido in the swimming pool at his home in Lagos last month has thrown a spotlight on the safety of swimmers in Nigeria.
The death of Ifeanyi Adeleke came four years after the one-year-old son of another Nigerian singer, D'Banj, died in similar circumstances.
Having access to a swimming pool in Nigeria is rare, and mostly the preserve of the wealthy, but many locals are unable to swim so basic safety measures could be vital to saving lives.