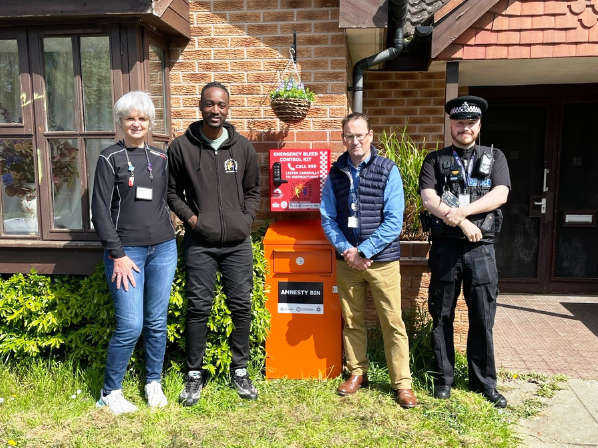 The West Northamptonshire Community Safety Partnership (CSP) has launched its 2023/24 strategy reinforcing its commitment to make West Northamptonshire a safer place for residents and visitors by taking a partnership approach to reducing crime, serious violence, and anti-social behaviour.
The responsible partners for the CSP include West Northamptonshire Council (WNC), Northamptonshire Police, Northamptonshire Probation Trust Northamptonshire Integrated Care Board and Northamptonshire Fire Service.
The strategy has been co-produced with members of the community, elected members and the Voluntary and Charity Sector to help refresh the priorities for the partnership. The current volume of crime and community concern, and impact on communities and victims were also taken into consideration.
Key priorities of the strategy include:
Working with communities to ensure our neighbourhoods are safe spaces for everyone
Targeting those causing the greatest harm and tackling the causes of crime through prevention and early intervention
Reducing incidents of serious violence including domestic abuse, sexual offences and knife crime
Protecting vulnerable people and safeguarding those at risk of exploitation
To ensure it is accessible for all, the strategy has avoided using a multiple page document and is instead laid out in sections on the CSP webpage. The webpage will feature quarterly live updates to reflect how the CSP has delivered against its key priorities.
As part of the strategy, partners have a commitment to deliver the Serious Violence Duty in accordance with the Police, Crime, Sentencing and Courts Act 2022, which is intended to ensure relevant services work together to share information and collaborate on interventions to prevent and reduce serious crimes within their local communities.
These services include:
Police
Justice
Fire and Rescue Authorities
Health
Local Authorities
The specified services have a collective responsibility under the Act to assess serious violence in their local area and produce and implement a delivery plan to address this by January 2024.Funding attached to the delivery of the Duty will be allocated to the Northamptonshire Police, Fire and Crime Commissioner (PFCC) and distributed by the responsible authorities.
Keeping residents safe is one of the Council's top priorities and it's really important to us that people feel safe wherever they are, whether it be in their homes, businesses and their communities.

I'm delighted we have been able to strengthen our commitment to achieving this by working with partners to deliver this strategy and enforce measures to help reduce crime across our area.

This strategy is a perfect example of partnership working, with agencies coming together to support each other with one shared purpose – safer streets in West Northamptonshire.Cllr David Smith, WNC's Cabinet Member for Community Safety and Engagement, and Regulatory Services
Projects already delivered by the CSP include providing a critical response to incidents of knife crime and supporting Police with knife amnesty events, working with youth providers such as Free2talk to offer mentoring and support to young people involved in gangs and knife crime, and the launch of an animation for young people highlighting key community safety subjects including fire and water safety, child exploitation and online safety.
In addition, the CSP partners between them secured Safer Streets funding of more than £1.7 million, which enabled projects, programmes and physical improvements, including installing 'Help Points' on the Racecourse and Becket's Park as part of 'safer routes' in Northampton town centre, reinstating CCTV cameras across Northampton, improving street lighting, and alleygating anti-social behaviour hotspots.
Partners have also worked together to deliver more than 60 community engagement events, bringing communities together and celebrating diversity, including Srebrenica, International Youth Day, International Women's Day, Northampton Pride, Diwali and Stephen Lawrence Day, and support campaigns including 16 Days of Activism, Serious Organised Crime week of action, Operation Revive and the launch of the Flare app.
Fighting crime and protecting people are what drives us every day and working closely with partners helps to enhance the work we do.

Working together we can better tackle the issues that concern people such as anti-social behaviour, knife crime and gang activity which can lead to issues such as drug dealing and cuckooing.

Not only are we able to take action against those committing crimes, joint working means we're also able to provide support for victims and those affected by the actions of others, as well as provide effective education and advice to local communities.West Northamptonshire Local Policing Commander, Superintendent Rachael Handford
No single organisation can make our communities safer by working alone.

Everyone involved in West Northamptonshire Community Safety Partnership is focussed on playing their part and, working together we have delivered some very successful schemes.

I'm looking forward to using the relationships we have built as a strong basis to deliver on our responsibilities under the Serious Violence Duty, to tackle the root causes of violent crime in our area.Northamptonshire Police, Fire and Crime Commissioner Stephen Mold
More information including the CSP strategy and full list of partners can be found on the CSP webpage.