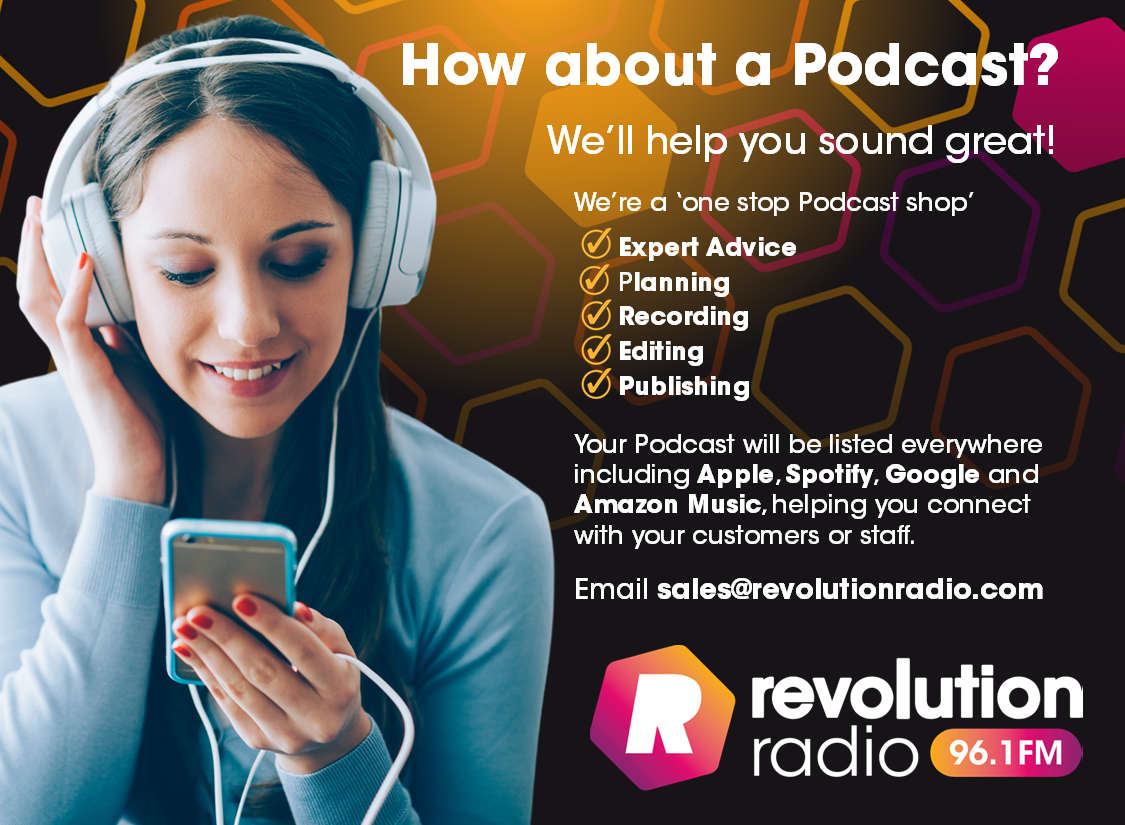 We are experts in podcast creation, production and management.
If you need a studio to record your podcast, no problem.
We can also help with content, production, editing and publishing your podcast via our fully featured hosting platform with your podcast listed in all the major directories including Apple iTunes, Spotify and Google.

From conception to launch – we can manage the whole process, with expert guidance throughout and help you develop a Podcast that can really showcase what your business can offer.
Or if all you need is a voice to present your podcast, then we can do that too.
We produce regular podcasts across a variety of topics which you can find on our website.
We also offer Enterprise Podcasts as a solution specifically for internal communication, for lager organisations wanting to connect more meaningfully with staff.
And, of course, all the stats and analytics to help you keep track of your audience growth as you build your fanbase.
Video Podcasts: We can also film your podcast using our studio cameras and vision mixing facilities and publish on YouTube, Vimeo, Instagram, Facebook, TikTok, Snapchat, etc. for an additional £50 per video. Please note we have recently upgraded the cameras and lighting in the studio
Prices
Fortnightly podcast (audio only): £149 for two audio podcasts per month.
Fortnightly podcast (audio + video): £199 for two audio podcasts and two YouTube videos per month.
Weekly podcast (audio only): £249 for four audio podcasts per month.
Weekly podcast (audio + video): £299 for four audio podcasts and four YouTube videos per month.
Add-on Packages to take your podcast to the next level
Podcast Production Package: £50 per podcast. Theme music, highlight clip at start, voiceover intro and outro and additional editing.
Podcast Marketing Package: £50 per podcast. Three audio/video clips per podcast with professionally written social media posts, content summary, blog posts and hashtags.
Express Publishing Package: £25 per podcast. 24 hour editing and publishing of your podcast episode
Complete Podcast Service: £100 per month. Includes all three packages Podcast Production, Podcast Marketing and Express Publishing.
Video Studio Upgrade
For the ultimate podcast video, rather than filming in our radio studio, we will record your podcast in a larger room set up as a TV studio. We will work with you to design an appropriate set to create a YouTube video of your podcast which has the look of a TV show. Pricing for this option depends on your requirements.
To get started - email chris@revolutionradio.com and we can chat through some ideas.