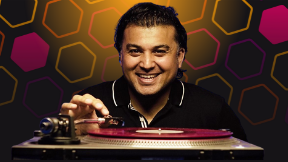 Bhangra Bhat sees Ravi Sagoo interview some luminaries from the Bhangra scene in the UK about their careers, love of the music and a look at where Bhangra music is today.
The series starts soon and you'll be able to listen again on demand here to every episode.
Episode One: Channi Singh (Alaap) - The Godfather of British Bhangra and founder of the band that led the Bhangra explosion Alaap.
Episode Two: Tru-Skool - Artist and Record Producer producing for some of Bhangra's most noted artist including JK, Karan Aujila, and Bollywood star and singer Diljit Dosanjh.
Episode Three: Shin (DCS) - Frontman of iconic Midlands band DCS who are in their fifth decade continuing to excite audiences old and young.
Episode Four: Rameet Sandhu - Scottish Bhangra and Bollywood actress signed to the biggest youtube channel in the world T-Series who's worked with rapper Curtis Young, and Dr Zeus.
Episode Five: Tigerstyle - Scottish production duo famous for bringing Bhangra to the mainstream via Britain's Got Talent, BBC Electric Proms and political charged Bhangra.
Episode Six: Bally Sagoo - Artist and record producer who pioneered the fusion of dance, soul and reggae music with Bhangra hitting the UKT Top 20 with "Dil Cheez (My Heart …) and brought Nusrat Fateh Ali Khan to the mainstream.