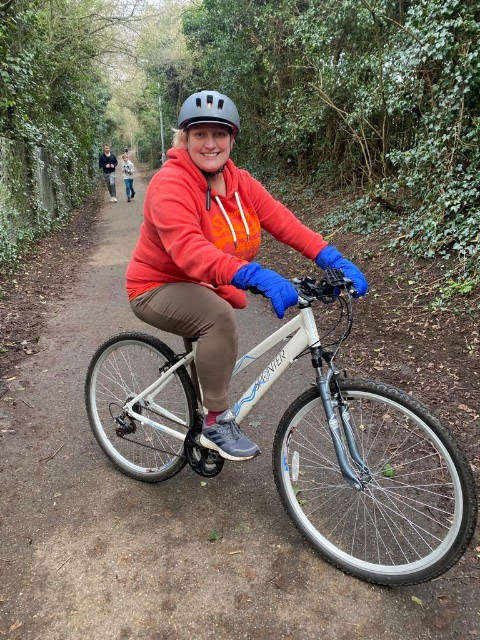 The 20th Cycle4Cynthia event is taking place at Holdenby House on 17 September 2023.
You can cycle 5, 10, 25 or 50 miles
Haven't cycled before but want to take part? Sign up for SofatoCycle and we'll help you train to reach your target miles - details below
20 years ago John Pinkham and a group of friends decided to take part in a cycle ride in aid of Cynthia Spencer Hospice. Since that date thousands of people have taken part in Cycle4Cynthia, raising over £745,000 for hospice care.
To celebrate the events 20th year we are asking you to become a Hospice Hero.
1,000 Hospice Heroes pledging to fundraise £100 towards £100,000 of hospice Care.
Pictured above: Esther Underwood who has already signed up for Cycle4Cynthia. She's a teacher from Northampton who is doing it to support her friend Rachel whose mum sadly died and was cared for by Cynthia Spencer Hospice.
Registration fees (held at 2022 prices):
Adult - £15 (£20 after 4 September 2023)
Child - £7.50 (£10 after 4 September 2023)
Family - £35 (£50 after 4 September 2023)
Haven't cycled before but want to be a Hospice Hero?
Sign up to the SofatoCycle group and the team will help you train to reach your target miles.
Simply register for the event and add SofatoCycle to your registration basket.
You'll be sent a SofatoCycle pack and details on how to join the SofatoCycle Facebook group.
We spoke to Sarah from Cynthia Spencer Hospice to find out more about the event and SofatoCycle - watch our interview here:
When the hospice volunteer brought round leaflets promoting #chute4cynthia, my patient told me "You should do this" and I replied "I can't think of anything worse" and then I realised what I'd said considering how much she was suffering, and I just signed up

Sarah Hospice Nurse and Skydiving Hero
What's stopping you?
Register today, set up a Just Giving Page and become a Hospice Hero