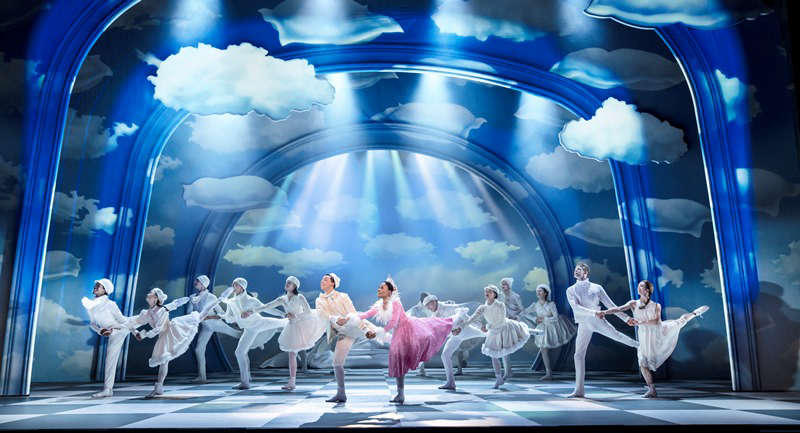 Ballet wizard Matthew Bourne's re-imagined Nutcracker! ballet celebrates its 30th birthday next year but in its current run at Milton Keynes Theatre it is as fresh and magical as ever.
The Tchaikovsky ballet was already 100 years old when it was first given a makeover by Bourne and this production has been substantially re-choreographed since it was last in MK 9 years ago with new costume and set designs.
Matthew Bourne's imagination is famously unbounded by convention and with a ballet that's set in Sweetieland he's been given an opportunity to take it to the limit - which he takes full advantage of!
Everything's larger than life from the opening scenes in a Dickensian orphanage on Christmas Eve with the children played brilliantly by adult dancers; to the explosive and dramatic cracking open of the walls of the building as the gateway to ice-skating Winter wonderland of Sweetieland opens up.
There's plenty of Bourne's sense of humour throughout but this show is memorable for the incredibly extravagant and colourful costumes in the second act. It's as if you've entered Elton John's hallucination, with giant cake hats and people dressed as candy dancing round a giant wedding cake as if they're in a 1930's Hollywood musical.
As you'd expect, the dancing is impeccable - perfectly synchronised and technically impressive, with the ballet mixed with modern styles and exaggerated movement, but the storytelling takes centre stage as orphan child Clara (Cordelia Braithwaite)'s present of a Nutcracker doll comes to life at midnight in the form of a barechested gentleman with a six pack (Harrison Howzell). This causes her to rapidly grow up and follow Mr Nutcracker to Sweetieland where the other children and staff from the orphanage appear in the form of sweets.
There's a trio of vain liquorice allsorts (Kayla Collymore, James Lovell and Rory MacLeod), a flock of marshmellow girls in pink tutus (Catrin Thomas, Kate Lyons, Megan Ferguson, Rose Goddard and Bryony Wood), a knickerbocker bouncer (Jonathan Luke Baker) and three cocky lads dressed as gobstoppers (Ben Brown, Stephen Murray and Harry Ondrak-Wright).
Clara's best friends become two cupid angels helping her through her adventure (Alistair Beattie and Shoko Ito). The nasty orphanage bosses Dr Dross (Danny Reubens) and Mrs Dross (Steph Billers) are King Sherbert and Queen Candy of Sweetieland and their bratty kids become Princess Sugar (Ashley Shaw) and the frequently inappropriate Prince Bon Bon (Dominic North).
Mr Nutcracker's sweet tooth is tempted by Princess Sugar when she performs her Sugarplum Fairy dance but will he run off with her or come back to our hero?
This is a sumptuous show which is a real treat for the senses, set to a timeless soundtrack which continues to delight audiences.