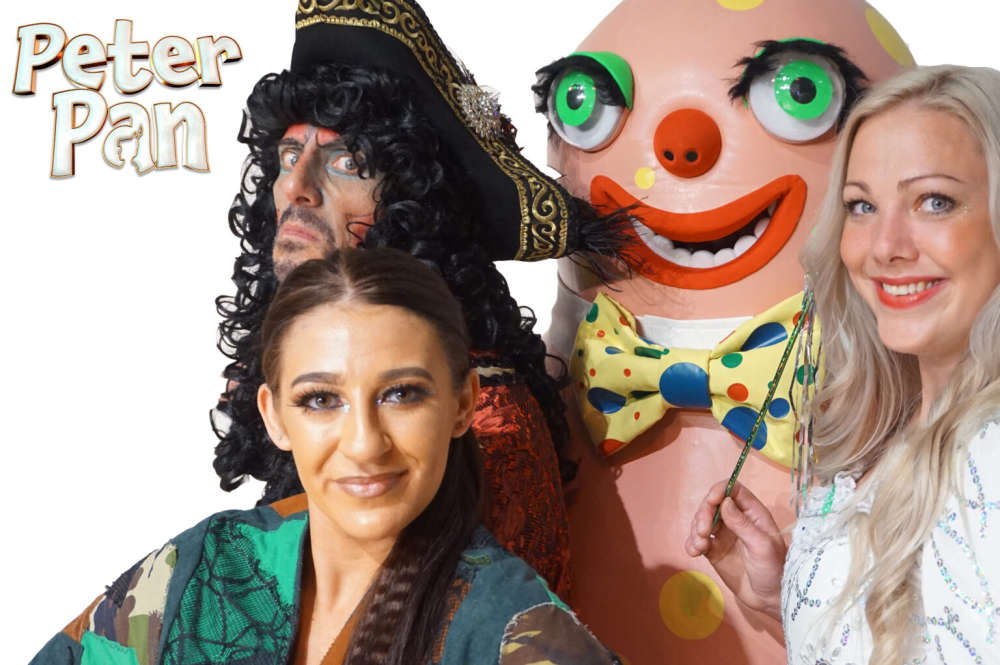 Peter Pan swoops in to The Chrysalis Theatre for their 2021 pantomime with an impressive cast and a starring role for the kids' favourite Mr Blobby!
Despite the traditional script for Peter Pan not featuring any clumsy pink domed spotty aliens, the creative team led by Director Steven Gordon-Wilson have created something refreshingly original with a large cast who all bring a wealth of talent to the show. Ventriloquist and comedian Steve Hewlett steals the show as Mr Smee, reminding the audience that he came fourth on Britain's Got Talent. He performs with his 'right-hand man' Arthur Lager as Grandpa Smee. He is at his best when reacting to the unexpected with some hilarious interaction with kids from the audience at the end of the show.
Starring as Peter Pan is Lucy Rose Rollason in the traditional 'principal boy' role, effortlessly flying around the stage and doing some nimble fencing against the villainous Captain Hook, played by BBC Eggheads star CJ De Mooi who has perfected the evil sneer and gets the audience booing him passionately. Lucy is also the show's choreographer and the young team of dancers from Rebecca Marie Academy of Dance perform some impressive routines throughout the show, repeatedly doing the splits and tap dancing, ballet dancing and rolling around the stage.
There's also an appearance by comedy magician Kev Stevens as Starkey who does an impressive trick with a banana.
Mr Blobby's role is unforgettable as he brings his trademark chaos to the show, knocking over people and parts of the set alike with a nuanced performance and real emotional depth to his portrayal of himself.
Completing the cast are Luke Byeford as pantomime dame Mrs Smee, Katie Phizacklea as Tinkerbell, Cara Bo as Wendy, Lillia Grace as Tiger Lily and Jono Andrews as Goliath. There was also a role for dog trainer Eveev Ruth who played pirate wench Nancy who randomly had a pirate dog with her. The young actors from Rollason Stage Show give a great performance as Michael, John, The Lost Boys and assorted Pirates.
There's some impressive ensemble dances with musical theatre favourites including You Can't Stop The Beat from Hairspray and the Wellerman sea shanty. Plus flying scenes, slapstick comedy, magic, ventriloquism, drag queens and dancing - it's hard to think of anything that's missing from this show.
Peter Pan is billed as Milton Keynes' most affordable pantomime but this is a big show with a huge amount of entertainment and talent on display, in a theatre which feels very relaxed and welcoming. It's a magical first pantomime for the kids and there's plenty for all ages to enjoy - and of course plenty of pixie dust.
Peter Pan is at The Chrysalis Theatre in Milton Keynes from 4th December until 2nd January 2022.