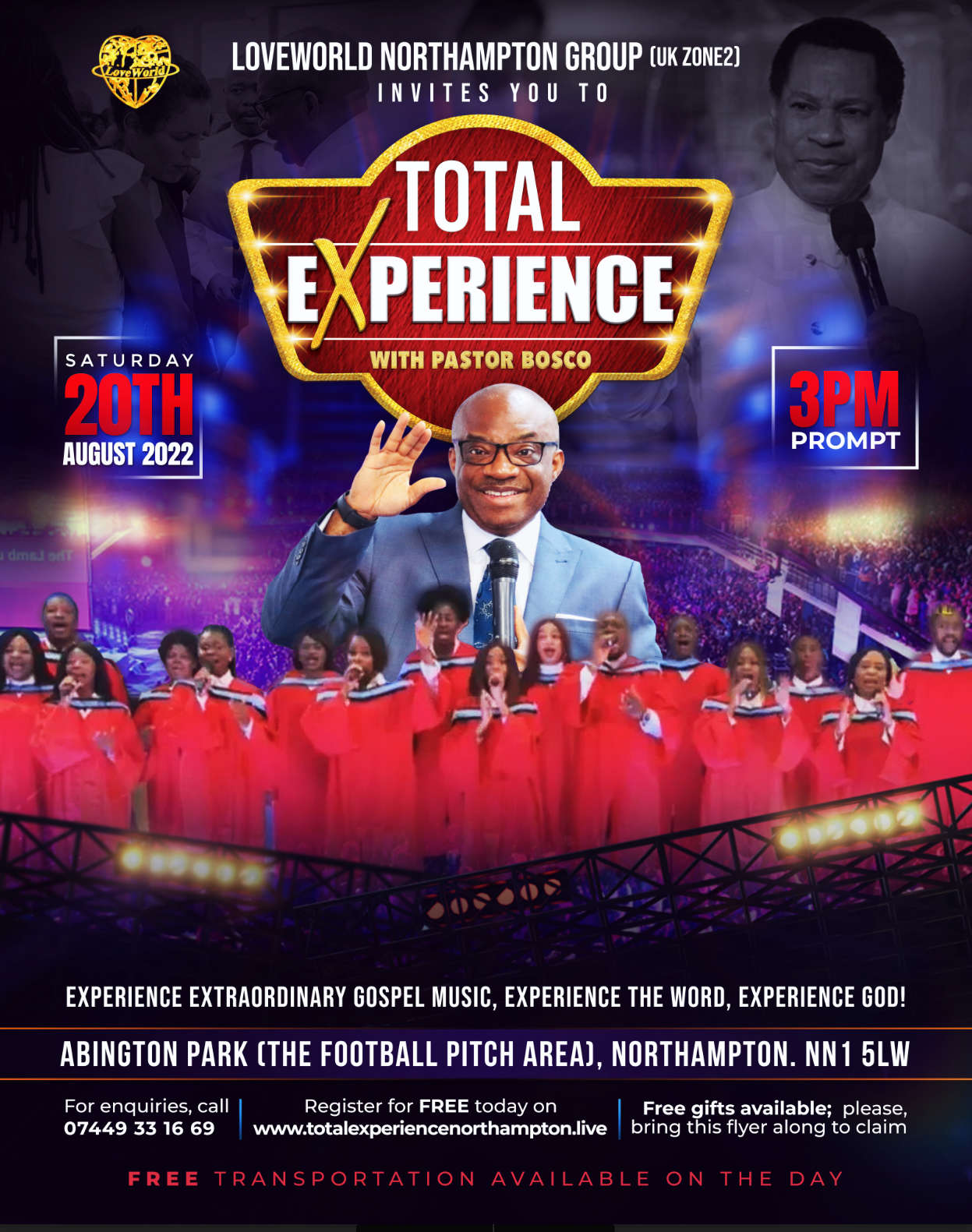 Total Experience Northampton 2022 took place at Abington Park, (the football pitch area) on Saturday 20th August 2022
Total Experience was a first of its kind Gospel event in Northampton, bringing extra-ordinary Gospel music to thousands of people in an outdoor setting from Northamptonshire, Oxfordshire and Buckinghamshire.
With a world-class live Gospel performance on the day, this family friendly event started at 3pm and finished at 6pm. Food and drink stalls were on site and available for everyone's use.
Total Experience Northampton 2022 was organised by the 11 LoveWorld churches in Northamptonshire, Oxfordshire and Buckinghamshire.
This programme provided the opportunity for our communities to interact in a safe and exciting manner.
More details of future events can be found on the event website: www.totalexperiencenorthampton.live
About the organisers
This event is being organised by LoveWorld (aka Christ Embassy) Northampton Group. LoveWorld is a bible believing church with thousands of churches all over the world and a total global followership of over 100 million. The founder and president of the church is Rev Chris Oyakhilome, author of the world's most distributed daily devotional, Rhapsody of Realities; translated in over 5,000 languages and billions of copies distributed to all the nations of the world, monthly.
Venue: Abington Park, (the football pitch area) Northampton NN1 5LW.
FREE transportation will also be available on the day for those that will require it.
Listen to the radio interviews with Fred and Sharon from Loveworld
Listen to the radio advert
More Details
Call 078 5396 8228 or visit http://www.totalexperiencenorthampton.live