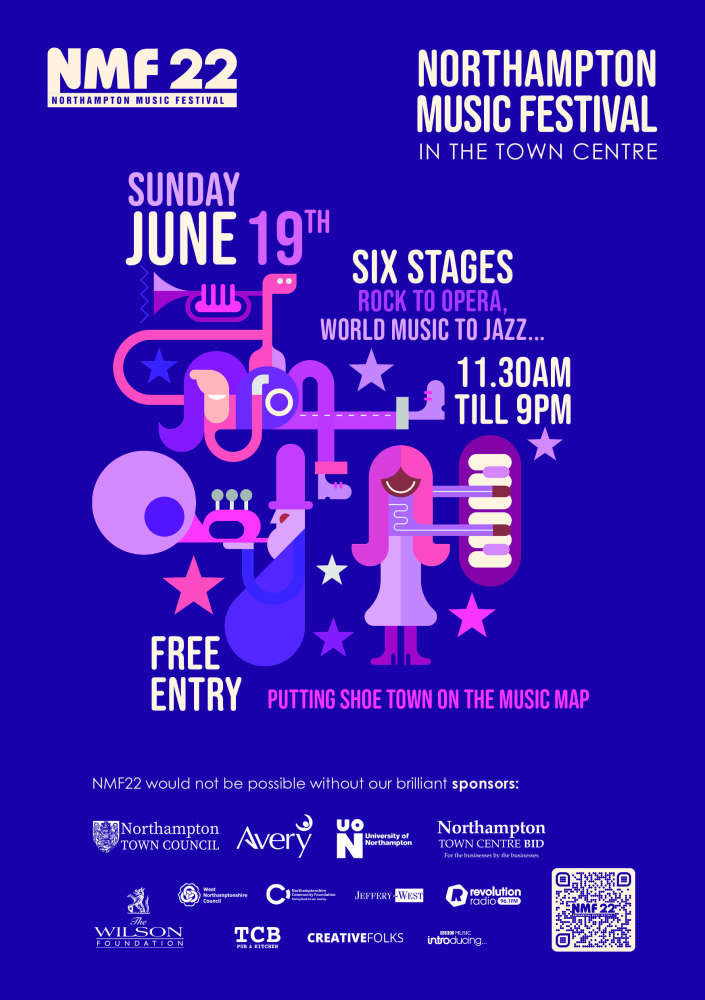 Revolution Radio is proud to be an official media partner of Northampton Music Festival 2022.
NMF is set to put Shoe Town on the music map as it returns to the town centre with 6 stages of live music and 61 acts to the town centre on one amazing day - Sunday 19 June 2022 from midday until 9pm.
Founded by local musician and businessman John Richardson, NMF is now in its 15th year and attracts around 10,000 music lovers to the town each year. From rock to opera, world music to jazz, there's something for everyone.... and it's free to attend.
We'll be broadcasting live across the day and bring you exclusive backstage interviews, live performances and all the atmosphere from the event.
Listen out to Revolution for previews and interviews with the organisers and performers over the coming weeks.
The town's architectural heritage will be celebrated through music of all genres across five stages throughout the town centre, culminating in a homecoming headline set on the main stage in Market Square from Northampton-based band Sarpa Salpa.
More than 61 acts set to perform in eight locations throughout the town centre, including:
The Main Stage in the market square opposite the Revolution Radio studios which hosts the event for the last time before its refurbishment.
The World Music Stage hosted in the courtyard of The Guildhall.
The Classical and Choral Stage at Northampton Museum's Courtyard.
The Jazz Stage in the courtyard of the Guildhall Hotel
The New Boots Stage at The Black Prince on Abington Square
Student Showcase Stage - In Element Courtyard on George's Row.
Pop Spencer Tribute Pop-Up Stage - Outside V&B on St Giles Square
Kate Coyle Pop-Up Stage - On Fish Street
The festival kicks off at 11.30am on the Main Stage in Market Square with Northamptonshire school children performing Katy Perry's Fireworks in sign language and culminates with a homecoming headline set from Northampton-based band Sarpa Salpa, whose new single 'Dreaming' is receiving critical acclaim.
The World Music Stage, in the courtyard of The Guildhall, will see a headline performance from T Bone Afrika Allstars – formed just a few months ago, the band is already playing to packed audiences across the country conjuring up the sense and feel of Africa. Northampton's own Ivor Johnson Band, rooted in soul and gospel music, will play an array of instruments from around the world. Sandeep Raval, curator of the World Music Stage, said: "This is an amazing opportunity for the Northampton community to experience world class talent on their doorstep for free."
Headlining the Classical Stage, in its new home at Northampton Museum's Courtyard, will be esteemed musicians David Blackadder and Richard Holloway. David is one of the world's finest trumpeters who was hand-picked to play at the wedding of Prince Harry and Meghan Markle. Richard is one of Northamptonshire's most respected and admired pianists who has dedicated much of his life to inspiring students at NMPAT.
The Jazz Stage at the Guildhall Hotel will be headlined by the Alex Clarke Duo. One of the most in-demand and versatile young saxophonists on the British jazz scene, Alex won the Rising Star category of the 2019 British Jazz Awards and was a finalist in the BBC Young Jazz Musician of the Year competition in 2020.
The New Boots Stage at The Black Prince on Abington Square will see folk-rock flair for the headline performance from Northampton singer Aryah and her group.
New and emerging talent will be celebrated on the Student Showcase Stage in Element Courtyard on George's Row with performances from students at Northampton College and the University of Northampton.
Two pop-up stages have been added to the line-up, both in memory of local musicians Pop Spencer and Kate Coyle who recently passed away. Pop-up curator Hannah Faulkner was determined to remember both much loved local performers during NMF22.
Gelda Spencer, Pop's wife, said: "Music was such a big part of Pop's life and he loved performing at the local festivals in Northampton. He would be so proud of this tribute to him at Northampton Music Festival."
Kate's friend, Scott Walters, said: "Kate was an amazingly talented singer and ukulele player and her favourite places to play were The Black Prince, The Mailcoach and The Fish. Kate was loved by so many."
The full line-up of the festival will be:
MARKET SQUARE – MAIN STAGE
11.30am: SIGNING Stars  
12pm: Wellingborough Gospel Choir 
1pm: Richard Exall's Shooting Stars 
2pm: Mystic Crew 
3pm: Hana Brooks 
3.30pm: Gabriel Halford and Dave Crawford 
4pm: Sharmaine
5pm: Lay it Down 
6pm: Phantom Isle 
7pm: Pure Genius 
8pm Sarpa Salpa 

GUILDHALL COURTYARD – WORLD MUSIC STAGE
1pm: Durgesh and Friends  
2pm: Inta Africa 
3pm: Paul Jackson  
4pm: Brazilian Vibes 
4.30pm: Plastic Visual 
5pm: The Ivor Johnson Band  
6pm: TBone Afrika Allstars
Followed by a spectacular finale featuring all acts

GUILDHALL HOTEL – JAZZ STAGE
1pm: Elle Delaney and Co 
2pm: Dan Wyllie Quartet 
3pm: The Krupa Connection 
4pm: Day-Hood & Co
5pm: Wayne Matthews Trio 
6pm: Alex Clarke Duo 

NORTHAMPTON MUSEUM COURTYARD – CLASSICAL STAGE
12.30pm: Joshua S Bell 
1.30pm: Kay Warçaba 
2.30pm: Wellingborough Gospel Choir 
3.30pm: Rob Colley 
4.30pm: David Blackadder and Richard Holloway 

THE BLACK PRINCE – NEW BOOTS STAGE
1pm: Chargr
2pm: Jasmine Burns
3pm: hazeyjane
4pm: In Atoms
5pm: Paul Ronney Angel
6pm: Aryah

ELEMENT COURTYARD – STUDENT SHOWCASE STAGE
12.45pm: The Stencil Pencils
1pm: Tabitha Brown 
1.20pm: Sophie & Daisy 
1.40pm: Katakuris 
2pm: Matt Jones
2.20pm: xtahc
2.40pm: New Age Jam
3.10pm: Plastic Visual 
3.30pm: Thrifted
4pm: Back2Basics 
4.30pm: Mitsäu
5pm: One Way Ticket
5.30pm: Our Condolences 
6pm: Osmium_band_
6.30pm: Worth a Shot

POP-UP STAGE OUTSIDE V&B (ST GILES' SQUARE) – A TRIBUTE TO POP SPENCER
12pm: Andreas Rose
1pm: Michael Green
2pm: Scott Walters
3pm: Tom Cayton
4pm: Joseph Boyle
5pm: Ray Beck

POP-UP STAGE ON FISH STREET – A TRIBUTE TO KATE COYLE
12pm: Niamh Keating
12.50pm: Ant & Luke
1.40pm: Mae Stephens
2.30pm: Hannah Faulkner
3.20pm: Marc Checkley
4.10pm: Charlie Tarry
5.10pm: Jake Brown
For more information and to receive news and updates on the acts performing, please visit the festival's website , follow #NMF22 on social media on Facebook @northamptonmusicfestival and Instagram @NNmusicfestival.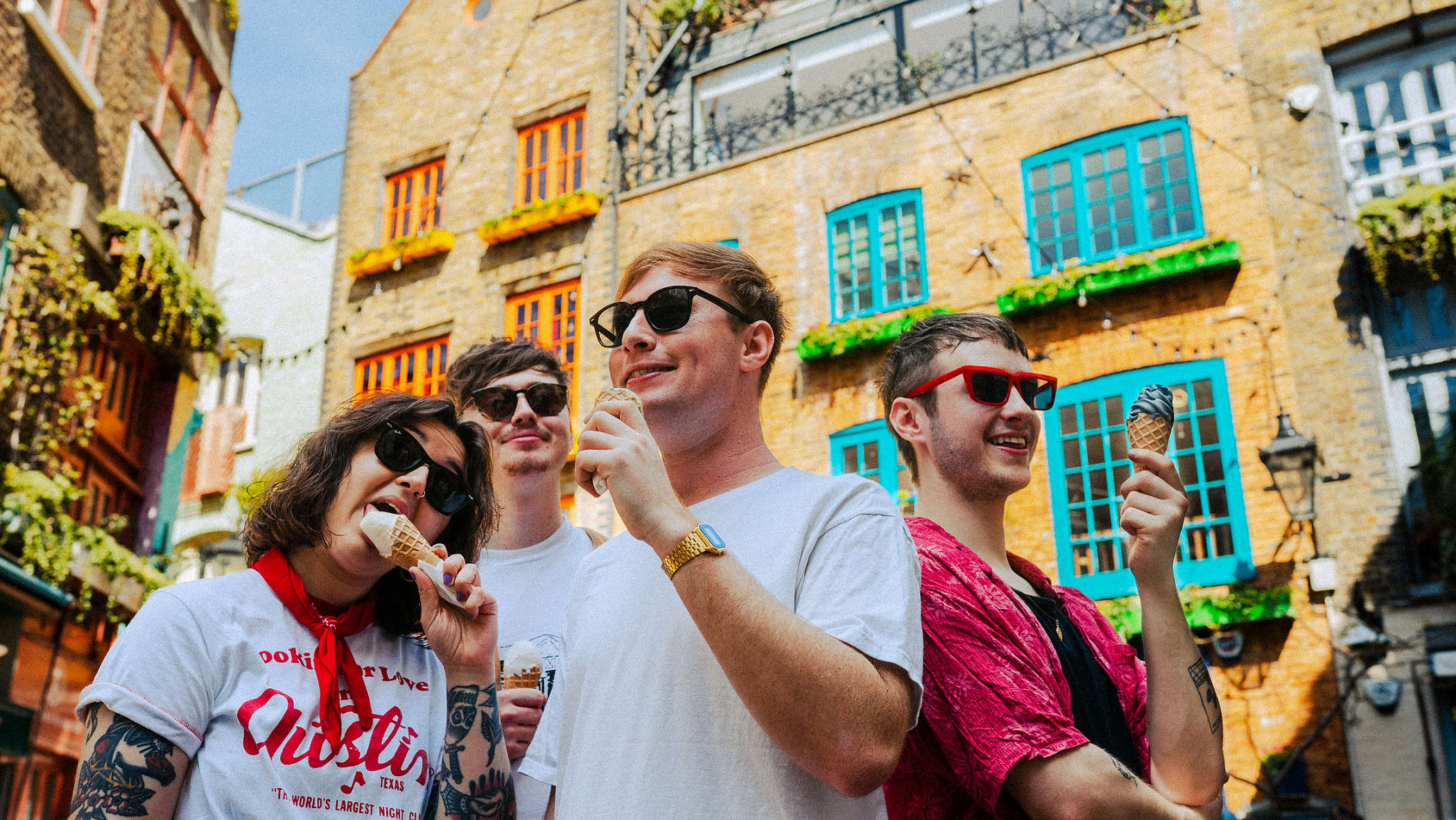 Last year's stage locations - the 2022 stage map will appear here soon...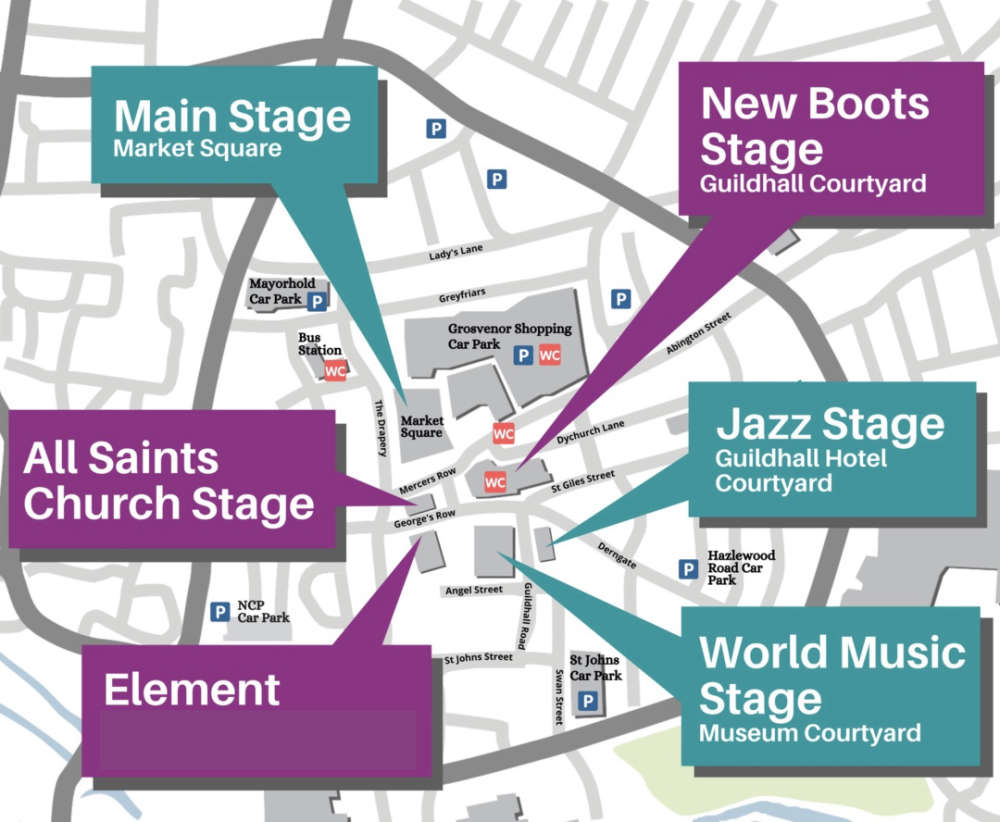 Check out the photos from last year's event to get a flavour of what's in store for 2022
Festival Music Director Graham Roberts said: "The festival is essentially a love song to Northampton and comes from the heart of a group of dedicated volunteers involved in the local music scene. We can't wait to put Shoe Town on the music map with this year's line-up and we're thrilled that Sarpa Salpa will be headlining the main stage and bringing the festival to a close.
"I'm delighted that the festival continues to grow year on year with increased footfall. It has established itself as an integral part of the town centre's future vision for arts and culture. A big thank you must go to our wonderful sponsors, without whom the festival would not be possible, in particular our main sponsors Northampton Town Council, Avery Healthcare, University of Northampton, Northampton Town Centre BID and The Wilson Foundation."
Jo Wright, Head of Marketing at Avery Healthcare who run seven care homes across Northamptonshire, said: "Music is an essential element of our residents' lives at Avery Healthcare. From concerts filled with singing and dance, musical mornings where residents choose songs to spend time listening to, or the basis of reminiscence for residents living with dementia, we regularly incorporate music into our calendar of activities and events. Avery was founded in Northampton, and our focus on being an integral part of the local community alongside our musical activities makes for a perfect partnership."