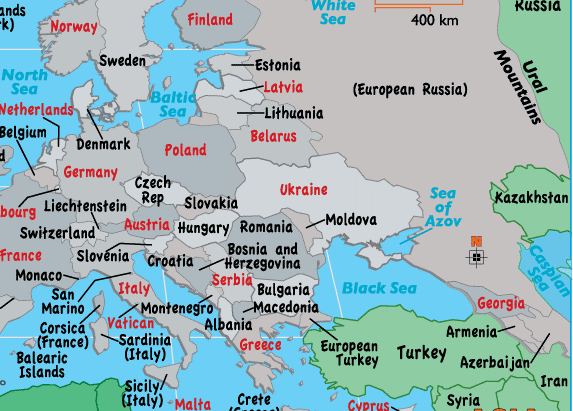 The latest news for your community
Hear news for the Eastern Eurpoean Community at 9am, 1pm and 5pm every weekday on Revolution Radio
23/3/2023
Poland's prime minister has warned Europe may see "revolts" if the European Union turns into a "super-state government" that ignores national differences.
Prime Minister Mateusz Morawiecki was delivering a speech at the university in Heidelberg, in Germany, about the challenges facing the continent where he said Ukraine is fighting Russia's invasion to protect core European values of freedom.
Romania is set to launch a EUR 2.5 bln grant scheme for regions economically impacted by decarbonisation
The Main Objective of the Just Transition Programme is to support environmentally sustainable economic diversification by generating sustainable and secure jobs in the six counties that will be affected by the closure of mining and thermal power plants.
The Czech government extended the validity of the rules for emergency accommodation of refugees from Ukraine by one year until March 31, 2024. Until then, the temporary protection of refugees will remain in effect in Czechia and other EU states.
The cabinet also prolonged payment of the solidarity subsidy to those who accommodate refugees in their homes or vacant flats for free or for just the price of consumed energy by another three months until the end of June.
20/3/2023
Slovakia has said it will join Poland in sending its Soviet-designed MiG-29 fighter jets to Ukraine.
The announcement by Prime Minister Eduard Heger is aimed at bolstering the country's air defences against a barrage of Russian missile attacks.
Romania's housing market is now struggling as demand falls.
The average selling price of apartments in Romania dropped 7.49% in 2022 from a year earlier, in sharp contrast to a year-on-year growth of 8.91% in 2021.
Derry Girls stars Jamie Lee O'Donnell and Saoirse Monica Jackson have shared snaps showing off their "trip of a lifetime" to Romania on Instagram.
The pair got the chance to explore the country while filming for the show World's Most Dangerous Roads.
15/3/2023
Czechia and the UK have signed a joint declaration to strengthen the fight against terrorism and trafficking
Czech Interior Minister Vit Rakušan and his British counterpart Suella Braverman agreed to intensify police cooperation between the two countries.
The signed declaration also states that both countries should boost their cooperation in the search for suspected missing people and in defeating human trafficking. Both countries can also work together to crack down on financial crime, according to the ministers.
More than 3,000 MW Solar Energy Projects will be installed In Romania in the next two years
That's according to REI, a group of companies specialized in attracting European funds and state aid
And there are now less than 100 days to go until Kraków and ten other southern Polish cities host the 2023 European Games
The event will be one of the continent's biggest sporting events this year.
The 3rd European Games will feature 12 days of competition in 26 sports, and more than 7,000 athletes are expected to take part.
10/2/2023
Ukrainian refugees in Poland are now being asked to bear half of their housing costs themselves.
The Polish government says funds provided by the EU to cope with thousands of Ukrainian refugees have been welcomed - but are not enough.
Those staying in the country for more than 120 days and living in shared accommodation have to pay half of their accommodation costs.
Vulnerable groups such as children, pensioners, pregnant women and single parents are exempt from the plans.
Ukraine and Romania have agreed to check the depth of canals off the Danube river which Kyiv uses to export agricultural goods.
Romania said last month it was concerned by signs that Ukraine was dredging the Bystre canal that slices through a shared, ecologically sensitive coastal region. Ukraine has denied violating any agreements by deepening the canal
The world's first cowboys came from Romania, Hungary and Bulgaria, not America, according to a new study.
Researchers have come across the earliest known cases of horse riding, about 5,000 years ago, by analysing ancient burial sites.
Bronze Age burial mounds in Romania, Hungary and Bulgaria, were studied by researchers who found five skeletons which had changes in the bone shape associated with horse riding.
7/3/2023
Czechia will inaugurate a new president this week. Petr Pavel will be sworn in at 2pm on Thursday.
Ceremonial events will take place at Prague Castle, the seat of the Presidential Office once outgoing President Miloš Zeman ends his second term at midnight on Wednesday with the ceremonial lowering of the presidential standard, accompanied by the national anthem.
Although he is entitled to live at Prague Castle, the new president hasn't yet decided if he will be moving in.
In a world first, Romania's prime minister has unveiled a new artifical intelligence government adviser.
The AI is called Ion and consists of a mirror-like surface that displays text as well as at times a male or female face that responds in a calm voice.
And a top EU court has ruled Poland's tree cutting policy was illegal.
The court said the forest management policy to allow tree cutting during the breeding season of protected birds went against nature conservation rules. The plans threatened and in some cases destroyed the birds' habitats, it said.
2/3/2023
Poland's mortgage market is set to shrink to the lowest level since 2005 as banks restrict home loans over concerns about potential defaults and mounting legal risks.
New mortgages this year are expected to drop 33%, continuing the downturn from 2022 when the market halved due to the steepest series of rate hikes in the country's history, according to the Polish Bank Association.
Meanwhile, the flower market in Romania will reach historical sales this week, when flowers worth over EUR 32 million will be sold, according to a study conducted by consulting company Frames.
Romanian Prime Minister Nicolae Ciuca has held talks with his visiting Moldovan counterpart as the two neighbors seek to boost ties amid Russia's ongoing war in Ukraine.
Children of same-sex couples in Czechia are set to get new birth certificates that officially recognize their parents' true gender according to a recently announced government decree.
Up until now, birth certificates of children raised by parents of the same sex display the categories "mother" and "father." This can cause bureaucratic issues later in a child's life.
23/2/2023
Britain is turning to a billionaire Czech energy tycoon to avoid winter power cuts by giving him the go-ahead to build a vast battery plant in Yorkshire.
EPH, owned by Daniel Křetínský, the businessman who has investments in Royal Mail, Sainsbury's and West Ham, has won lucrative 15-year contracts from National Grid's electricity system operator to provide power to the grid when back-up supplies are needed.
The electricity will come from a new battery site and gas-fired power plant in Eggborough.
A Romanian doctor has been arrested on charges of illegally harvesting hundreds of pacemakers and defibrillators from corpses and implanting them into patients over a seven-year-period -- sometimes when they didn't even need them.

Dan Tesloianu, a 52-year-old cardiologist from St. Spiridon Hospital in the northeastern city of Iasi, is accused of working with four other medics who helped him find sick patients and then remove cardiac implants after they died.
They passed the pacemakers and other devices off as new and illegally pocketed money from patients, prosecutors said.

They are being investigated in 238 cases between 2017 and August 2022.
17/2/2023
The anniversary of the Russian invasian of Ukraine will be marked in Northampton with a ceremony on Friday 24th February at 10.45am at the Guildhall Courtyard.
The Ukrainian flag will be raised and the Chairman and Leader of West Northamptonshire Council and representatives from the Ukrainian community will light candles, followed by a minute's silence to honour all of those affected by the ongoing war
Speeches during the event will be translated into Ukrainian and guests will be given wildflower hearts to take away.
The Czech Senate has banned the sale of nicotine sachets, also known as pouches, to under 18s.
The sachets, which are placed between the gum and lip, are designed to help people quit smoking – but their overuse has been linked to forms of mouth cancer, gum disease, and a higher risk of a stroke.
Romania's air force have scrambled fighter jets after detecting a suspicious 'weather balloon' in its airspace
Two MiG 21 LanceR jets were sent to the area in the southeast of the country 10 minutes after surveillance systems detected the object, the defence ministry said.
14/2/2023
Czechia's government has warned citizens to exercise strong caution when traveling to Sweden, due to an increased risk of terrorist attacks.
The government has recommended travelers going abroad to register in the Drozd online system, which – among other things – helps Czech citizens in case of any emergency.
Prague police have shot dead a man who had been aggressively wielding an axe.
He is alleged to have burgled a building in Prague 9.
Upon arriving at the scene, the man is said to have charged at police officers despite repeated instructions to give himself up and was pronounced dead at the scene.
And Madrugada (Norway), Moonlight Breakfast (Austria), Orkid (Romania), and We Singing Colors (Romania) are the first artists announced for this year's edition of the Rocanotherworld festival in Iasi, eastern Romania.
The event, promoted as "an exploring festival of music, art, thoughts, people and ideas," is scheduled for June 22-25 2023.
9/2/2023
Polish lawmakers voted to ease the limits on onshore wind farm development, helping the government reach one of the key milestones needed to access €35.4 billion ($38 billion) in the European Union's recovery funds.
The bill will leave it to local communities to decide on where to build the turbines and likely revive the industry that was hit by the 2017 decision from the ruling coalition to restrict new investments to help ailing coal mines.
Romania is ready to pick its entry to the 67th Eurovision Song Contest in May.
'Selecția Națională 2023' sees 12 songs compete on Saturday 11 February, with the winner going on to represent Romania in Liverpool.
And one of Prague's neglected corners will get a new look. The bus terminal at the Černý Most metro stop will be transformed into a comfortable and modern transportation hub.
Prague City Hall this week approved a conceptual study by the studio re:architekti together with other experts, which foresees the removal of footbridges and the filling in of the terminal area.
7/2/2023
The Czech National Bank has announced it will donate cars for the evacuation of wounded Ukrainian soldiers
The "Gift for Putin" project, founded by Czech businessman Dalibor Dědek, announced the transfer to Ukraine of two armored vehicles that will be used to evacuate Ukrainian soldiers wounded in battles with Russian aggressors.
With millions of Romanians living and working abroad, the country plans to use digital technology both to support expatriates and to engage them in policy development back home.
The government plans to offer digital services remotely to Romanians living abroad, supporting them with settling into their new countries or helping those planning to return home with repatriation. But they will also use the power of digital to enable expats – who represent some of the most educated Romanians – to help them with difficult policy decisions.
Tadeusz Krzyszkowski, the oldest tennis player in Poland, has celebrated his 100th birthday in fitting fashion, on the tennis court.
He marked the occasion by playing a short game with his son, Tomasz.
The centenarian was cheered on by his two other sons, as well as the mayor of Gdynia
2/2/2023
US President Joe Biden has said he will visit Poland - although he does not know when.
The announcement has come amid reports that the US president is considering a trip to Europe to coincide with the February 24 anniversary of Russia's war in Ukraine.
Border controls at the border of Czechia and Slovakia – in place since late September – are coming to an end this weekend following a ministerial meeting.
Checks were originally introduced to tackle the rising number of immigrants (predominantly of Middle Eastern origin) traveling via the Western Balkans, with the intention of traveling through Czechia en route to Western Europe.
Since the introduction of controls, over 3 million people were checked, with over 9,000 detained.
The parties in Romania's ruling coalition will swap the position of prime minister as planned by June and may try to continue ruling together after general elections expected in late 2024, according to the future Premier.
Marcel Ciolacu, the Social Democratic leader who's poised to take over from Liberal Prime Minister Nicolae Ciuca under an agreement between their parties, vowed to break the cycle of political upheaval that has seen 12 cabinets come and go since 2004.
31/1/2023
Romania has become the fourth most common foreign country of birth for UK residents.
New census data shows Romania has jumped from the 86th to the fourth place in the space of 20 years.
The surge in east European migration has also seen Poland jump to second in the table, from 18th in the 2001 census, just behind first-placed India.
Nigeria is also up from 14th to eighth. But Jamaica has fallen out of the top 10, dropping from sixth place in 2001 to 20th in 2021, along with Kenya (ninth to 21st).
Among the biggest falls are Commonwealth countries with Australia, Canada, Jamaica and Kenya seeing sharp drops.
Retired army general Petr Pavel has won the election to become Czech president
He decisively defeated populist billionaire Andrej Babis in a run-off vote and will succeed controversial Milos Zeman in the largely ceremonial but prestigious post.
His election is expected to cement the country's Western orientation following Zeman's decade in office.
Poland plans to raise the country's defense spending to 4% of its GDP, Prime Minister Mateusz Morawiecki said on Monday.
He said raising defense spending to their new target "could mean this will be the highest percentage ... of all NATO countries."
25/1/2023
Poland's national football team have announced the appointment of former Portugal boss Fernando Santos - who takes over as national team coach
The appointment follows the departure of Czeslaw Michniewicz who left at the end of December after the FA decided not to renew his contract after he had guided the team to their first World Cup knockout stage appearance in 36 years in Qatar.
Santos will now become Poland's third foreign-born coach - after Leo Beenhakker and Paulo Sousa.
Fragments of a 2,000-year-old Roman road have been uncovered in Romania in the center of the city of Cluj-Napoca by archaeologists from Romania's National History Museum of Transylvania.
Team member Cristian Dima said that the north-south road was probably part of a network of roads in the settlement of Napoca.
In Czechia's fourth review by the UN Human Rights Council, there was praise for progress but some criticism in key areas.
The routine review criticized the Czech Republic's treatment of the Roma minority as well as its weak policies on domestic and sexual violence.
23/1/2023
Greek warplanes scrambled Sunday to escort a Ryanair flight from Poland to Greece with 190 people on board after a bomb alert was reported to authorities, officials said.
Two F-16 jets escorted the flight, which took off from Katowice for Athens, as it entered Greek airspace from North Macedonia, the source told AFP.
The Boeing 737 had earlier been escorted by Hungarian warplanes, the official added.
The flight finally landed at an isolated area at Athens International Airport shortly before 1600 GMT, a delay of nearly two-and-a-half hours.
In Romania, a court has ruled to extend the detention period of Andrew Tate and his brother Tristan who will stay in custody until the end of February.
They were arrested on 29 December on suspicion of rape, human trafficking and forming an organised crime group to exploit women.
Both men have denied wrongdoing. The Tate brothers were kept in 30-day custody in Romania while police investigated the allegations.
A new fashion boutique billed as Prague's first Ukrainian concept store is now showcasing Ukrainian brands in the Czech capital. ÓDYAH officially opened its doors at Prague's high-end Slovanský dům shopping center in November.
Founded by Prague-based Ukrainians Halyna Huchkaniuk and Iryna Hrebeniuk, ÓDYAH aims to showcase the best of Ukrainian fashion to consumers in the Czech Republic as well as tourists from across the globe.
18/1/2023
Romania has extradited the suspected leader of the country's Hell's Angels chapter to the United States to face charges of drug trafficking, money laundering and complicity in attempted murder, police said on Monday.
Romanian media identified the man as the biker club's country branch leader, Marius Lazar, who is wanted for being a member of an international group of drug traffickers and for negotiating the attempted killing of two rivals.
A NATO surveillance plane arrived in Romania on Tuesday to bolster the military alliance's eastern flank and help monitor Russian military activity.
The plane, the first to be deployed, landed at an air base near Bucharest and two more are expected to land later in the day and on Wednesday. They are due to stay for several weeks.
NATO announced last week it would deploy the Airborne Warning and Control System (AWACS) surveillance planes to Bucharest, where they will start reconnaissance flights solely over NATO territory.
Oscar winning Czech musician Markéta Irglová is among those hoping to represent the Czech Republic in this year's Eurovision Song Contest.
Czech Television (ČT) has selected five acts to compete to represent Czechia, from the 170 songs that were submitted. The viewing public can vote for the winner between Jan. 30 and Feb. 6, who will then go to Liverpool to face acts from Europe and Australia between May 9 and 13.
Irglová, who won an Oscar for the song "Falling Slowly" from the 2007 film "Once," has lived in Iceland since 2012. She sought to represent Iceland in the 2022 Eurovision contest but was eliminated in that country's semi-finals.
16/1/2023
Polish officials searched wetlands on the border with Belarus on Friday after three bodies were found in an area where thousands of migrants from the Middle East and Africa have been trying to enter the European Union.
The death of a Yemeni doctor near the border, where winter temperatures often fall below zero, was confirmed on Jan 7. The identity of the two others - found on Thursday and Friday - has not yet been confirmed, but they were probably migrants, according to Grupa Granica, a coalition of NGOs helping those struggling on the border.
Anna Michalska, a spokesperson of the Border Guard said soldiers on the border had told them others may have died.
NATO plans to deploy three surveillance planes to Romania this week to perform reconnaissance missions and to "monitor Russian military activity" within the military alliance's territory
The planes belong to a fleet of 14 usually based in Germany and will be sent to an airbase near the capital, Bucharest, on a mission expected to last several weeks, NATO said in a statement.
The planes can detect aircraft hundreds of kilometers away, making them a key capability for NATO's deterrence and defense posture.
Netflix hit Wednesday has caused a tourism boom in Romania where fans can now visit the show's set for a guided tour.
Scenes in the ghost town of Jericho and the Nevermore Academy were filmed near Bucharest at Buftea Studios.
Expedia revealed a 55% increase in searches for hotels in Bucharest since the series launched
11/1/2023
The number of Ukrainians who crossed the border into neighboring Poland since the war began has now passed 9 million according to the Polish Border Guards.
It added that on Tuesday alone some 29,900 people arrived from Ukraine to Poland.
However, during that time, some 7.25 million Ukrainians have since exited Poland, according to the Polish Border Guards, leaving the current number of registered Ukrainian refugees at some 1.5 million, the UNHCR refugee agency said last month.
The judge who denied Andrew Tate's release from Romanian jail cited his wealth as the reason, saying it made him a flight risk.
The controversial social media influencer was arrested with his brother Tristan and two Romanian women in December and held in jail for 30 days. They appealed the decision, but their request was denied in court. They now have to remain in detention as Romanian authorities investigate the charges against them, which include sex-trafficking and rape.
In the Czech Republic the campaign for the presidential elections will culminate on Friday and next Saturday as Czechs vote to elect the head of state who will replace outgoing Milos Zeman.
According to the latest polls, the next president will be chosen from a trio of contenders, including Andrej Babis, the former premier and leader of the populist ANO movement, General Petr Pavel, retired senior Nato and Czech army official, and Danuse Nerudova, former rector of Mendel University in Brno.
9/1/2023
Poland risks new clash with EU over the death penalty
Poland's hardline conservative government Prime Minister said he backed a return of the death penalty, which is banned in the EU.
Mr Morawiecki said the country needed a "rethink" of its position, describing the post-Cold War abolition of capital punishment "was a premature innovation of the 1990s".
Romania has carried out raids on several locations of people who were involved in tax evasion on income generated through Cryptocurrency operations.
Romanian Police and its tax authorities raided more than a dozen people living in various locations of the country.
And 10 of the 12 former prime ministers of Czechia have come together to mark 30 years since the creation of an independent Czech state.
Prime Minister Petr Fiala met with his predecessors as well as his Slovak counterpart at a dinner in Prague to mark the historic occasion.
23/12/2022
Czechia could be about to elect its first female president.
Danuše Nerudová has emerged as a frontrunner for the Czech presidential elections in January and could become the nation's first female head of state.
A recent poll by Česká televize put Nerudová in first place, with 27 percent of voters saying they would vote for her in a first round to be held on Jan. 13 and 14, ahead of Babiš and Pavel, both on 26.5 percent.
Festive shoppers in Romania feel the pinch of soaring costs
Prices in the shops have increased by as much as fourfold. This year's Christmas meal is set to be another victim of price hikes, with many Romanians faced with the prospect of ditching their favourite festive foods to cut costs.
And Ukrainian President Volodymyr Zelenskiy was seen at the train station in the southern Polish city of Przemysl on his way to the U.S. on Wednesday, footage from private broadcaster TVN showed.
It indicates that Poland was the first country he visited since the outbreak of the war

20/12/2022
The Czech constitution celebrated three decades of existence last week, an occasion for local politicians to reflect on its strengths and shortcomings.
The document was adopted on Dec. 16, 1992, and came into force on Jan. 1, 1993, when Czechoslovakia split into two independent countries, the Czech Republic and Slovakia.
Over half (52%) of Austrians support their government's decision to block the inclusion of Romania and Bulgaria into the Schengen area, according to a recent survey.
By comparison, roughly one-third of respondents said that the same decision was a mistake.
16/12/2022
Poland's chief of police was left injured after a grenade launcher presented to him during a visit to Ukraine reportedly exploded at the police headquarters in Warsaw.
Jaroslaw Szymczyk suffered cuts and damage to his hearing and was treated in hospital following an explosion which caused extensive damage to a room below his office, Poland's interior ministry said.
The first section of Romania's Sibiu-Pitești highway has opened to traffic ahead of schedule
The 13 km section opened almost four months before the contractual deadline for completion.
It's being built by the Austrian company Porr Construct for approximately 124 million Euros.
The fertility rate in Czechia is at its highest since 1992
The fertility rate has been growing in the Czech Republic over the last decade, and last year, it had one of the highest in Europe. However, around the turn of the millennium, the country had one of the lowest in Europe.
14/12/2022
Poland will submit draft amendments to a law on its Supreme Court this week to fulfill requirements to receive EU recovery funds, Polish European Affairs Minister Szymon Szynkowski vel Sek said on Tuesday.
Poland's access to 23.9 billion euros ($25.38 billion) in grants and 11.5 billion euros in cheap loans had been blocked due to a dispute with Brussels over judicial independence.
In June the European Commission said it was approving Poland's recovery plan, but the money would not flow until Warsaw makes reforms to the judiciary.
Romania may block Austria from winning the chairmanship of the Organization for Security and Cooperation in Europe (OSCE) in December 2023, a move that can be seen as retribution for Austria keeping Romania out of the Schengen area earlier this month, G4media.ro reported.
Leadership positions in the OSCE are filled by the consensus of the member states. Marcel Ciolacu, president of the governing Social Democratic Party (PSD) in Romania, hinted at the fact that Romania may block Austria from obtaining the positions it wants in the organization.
Call and mobile data prices in Czechia remain among the highest in Europe, the Supreme Audit Office says in a report on how the Czech Telecommunications Office managed state finances and property between 2018 and 2022.
12/12/2022
A group of Ukrainian doctors has arrived in Poland to receive training in aeromedical evacuation, National Security Bureau chief Jacek Siewiera has said.
They will begin training in aeromedical evacuation of wounded soldiers and civilians from combat zones,
She stressed that Poland is supporting Ukraine in building aerial search and rescue capabilities, and more groups of Ukrainian medics are on their way to receive training from Polish experts.
Romania's navy carried out a controlled explosion on Saturday of a naval mine that had drifted close to the country's Black Sea shore, the defence ministry said.
Mines began floating in the Black Sea after Russia invaded Ukraine and Romanian, Bulgarian and Turkish military diving teams have been defusing those drifting in their waters.
A minor earthquake hit the town of Cheb in West Bohemia, on the Czech-German border, on Thursday afternoon. Seismologists detected it as a magnitude 3.1 earthquake on the Richter scale, meaning that it could be felt and seen.
The quake struck at approximately 4:45 p.m., with people living about 40 kilometers away also feeling tremors and reverberations. They could see and hear, for example, the "clinking of glasses in cupboards,"
8/12/2022
A senior Polish Government official has declared that Poland will never allow itself to be treated like a "German colony" amid a fierce row with Berlin over compensation for World War 2.
The Deputy Speaker of the Polish Parliament has erupted at the German government's refusal to hand over €1.3trillion (£1.1trillion) in reparations for Nazi Germany's crimes in Poland during World War 2. Poland has made a formal request to Berlin for compensation which has been rejected out of hand by the German Government, leading to an escalating diplomatic row.
Austria will veto Romania and Bulgaria joining the EU's border-free Schengen area, Austrian interior minister Gerhard Karner has said before the meeting of EU colleagues in Brussels.
On the other hand, the German interior minister said Germany supports bids by Bulgaria, Croatia and Romania to join the border-free area.
The Czech government will extend checks on the border with Slovakia for another 14 days until Dec. 27.
The checks were introduced in late September due to migrants entering the country from the West Balkans on the way to Serbia and Hungary.
Migrants, mainly from Syria, use the Czech Republic and Slovakia as a transit country to continue their way westwards to other EU states.
6/12/2022
Poland's defense minister said Tuesday that his country will accept a Patriot missile defense system which Germany offered to deploy to Poland last month.
The German offer was made after an errant missile fell in Poland near the border with Ukraine, killing two Polish men. Poland and NATO have said they believe it was a Ukrainian missile that misfired as the country was protecting itself from a missile barrage on Nov. 15.
Czech shoppers have long claimed that when they buy food across the border in Germany or Austria, the items are not the same even though the label is.
The practice of selling dual-quality food is now illegal in Czechia. Since May, the Czech Agriculture and Food Inspection Authority (SZPI) has been tasked with finding brands that violate the ban on double standards.
Romania's Interior Ministry (MAI denied claims recently forwarded by a human rights NGO that a clandestine Chinese police station is active on Romanian soil, as in many other countries.
Ministry denies claims of Romania hosting clandestine Chinese police station© Provided by Romania Insider
In January 2022, the Spain-based human rights NGO Safeguard Defenders published a report titled Involuntary Returns documenting China's methods to harass, threaten, intimidate and force targets to return to China for persecution. The report prompted investigations by law enforcement agencies in 12 countries. A subsequent investigation counted 110 clandestine police stations functioning outside of China.
5/12/2022
A Coca-Cola truck caught fire while driving down a busy road in Romania's capital Bucharest.
It is unclear how the fire started. The driver managed to leave the vehicle before it was engulfed in flames.
Firefighters later arrived to put out the blaze, and there were no reports of injuries.
The soft drink company told local media it was taking measures to prevent further incidents.
Poland's ruling party leader Jaroslaw Kaczynski backed efforts to secure European Union funding by his prime minister, who has come under fire from a coalition ally for seeking a compromise with Brussels
The crucial support of Poland's most powerful politician gives Prime Minister Mateusz Morawiecki leverage as he seeks a way to access €34.5 billion in post-pandemic aid from the EU.
Romania's unemployment rate increased marginally in October after falling in the previous month.
Preliminary data from the National Institute of Statistics showed the seasonally adjusted jobless rate rose to 5.5 percent in October from 5.4 percent in September.
2/12/2022
Poland scraped into the last 16 of the World Cup on goal difference after a backs to the walls performance saw them lose 2-0 to Group C winners Argentina.
With the group on a knife edge heading into the final round of fixtures, Mexico conceded a last-gasp goal in a 2-1 victory over Saudi Arabia, sending Poland through after it had seemed for much of the second half that they would advance purely on fair play rules.
Second-half goals from Premier League duo Alexis Mac Allister and Julian Alvarez ensured Argentina progressed after Lionel Messi had a controversial penalty saved by Wojciech Szczensy.
Messi will now lead Argentina out versus Australia in the next round, while Poland's reward for squeaking through is a tough test against reigning champions France.
The Ho Chi Minh City Union of Friendship Organisations (HUFO) on November 30 hosted a get-together to mark the 104th National Day of Romania (December 1, 1918 – 2022).
Addressing the event, President of the Vietnam-Romania Friendship Association (VRFA)'s chapter in HCM City Nguyen Truong Giang said Romania is one of the first countries to officially recognise the Democratic Republic of Vietnam and has always supported and assisted the Vietnamese people during their struggle for national independence and reunification as well as their current construction and defence.

In addition to providing aid in the fields of construction, oil and gas, and railway, Romania has trained more than 4,000 students and post-graduates for Vietnam, many of them have become experts and managers with great contributions to the country's development, he added.

Over the past years, the municipal VRFA has carried out many activities to support the Romanian Embassy in Vietnam and acted as a bridge to promote solidarity, friendship and cooperation between the people of HCM City and Vietnam and their Romanian peers.

Real wages in the Czech Republic are experiencing the sharpest drop out of any OECD country, according to Czech Radio, which cites an analysis done by the Cyrrus company.
The real wage drop is expected to have a negative effect that will manifest between 2022 and 2024 as an increase in the number of thefts, divorces, and suicides, according to the same analysis.