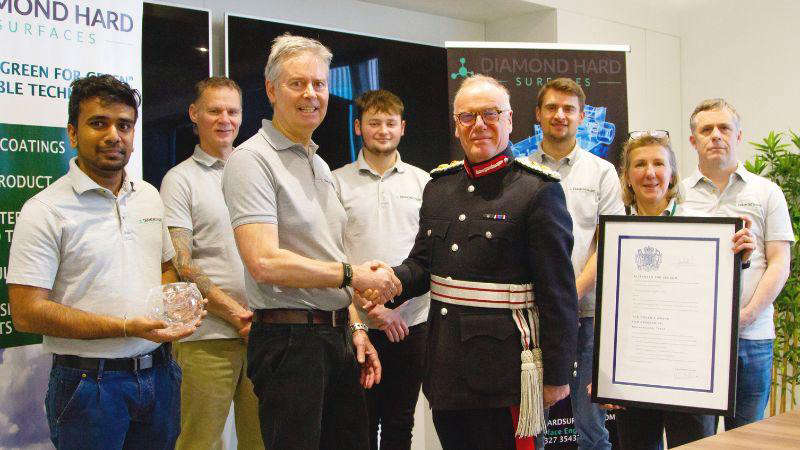 Diamond Hard Surfaces at Caswell Park near Towcester receive their 2022 Queen's Award from the Monarch's representative in Northamptonshire, the Lord Lieutenant James Saunders Watson.
In April 2022 Diamond Hard Surfaces Ltd at Caswell Park near Towcester won the International Trade category in the prestigious Queen's Awards.
On Wednesday, 18 January 2023, the Lord-Lieutenant of Northamptonshire, James Saunders Watson Esq, presented the award to the firm.
He said: "The late Queen reigned through a period which saw giant leaps in technology, so it is fitting that in her last year she recognised a small local company making international waves with its cutting-edge technology."The Lord-Lieutenant of Northamptonshire, James Saunders Watson Esq.
"Not only does West Northamptonshire's strategic location attract investors, but the area also attracts and nurtures talented people.

"Diamond Hard Surfaces is a fine example of the many companies who have found the area a good place to start and grow and I thank them for drawing attention to one of the area's prime strengths - its innovative people."Cllr Daniel Lister, West Northamptonshire Council's Cabinet Member for economic development, town centre regeneration and growth.
Employing six people, Diamond Hard Surfaces Ltd was established in 2004 and produces high performance, high endurance diamond-based engineering materials and coatings for advanced engineering markets such as aerospace and electronics.
"We are thrilled to receive this incredible accolade and we want to inspire as many local businesses as possible to enter these awards.

"West Northamptonshire has thousands of fantastic businesses that are all worthy of this prestigious award; we are so proud to have won and we look forward to growing our business even more."Chris H Walker, Director and CEO of the company who has led the business from start up to production.