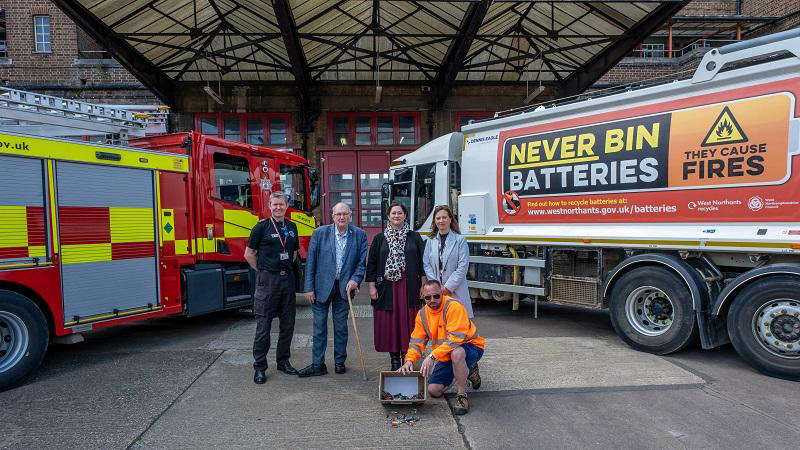 Following a series of fires, residents across West Northamptonshire are being urged to help reduce risk to lives by disposing of batteries safely.
People are being urged to ensure that they only recycle batteries using specialist recycling services to help tackle the cause of fires happening in refuse collection vehicles and waste facilities.
Household batteries that are being thrown away in rubbish and recycling bins have caused a number of incidents, including causing refuse collection vehicles to catch fire. West Northamptonshire Council, with the support of Northamptonshire Fire & Rescue Service, are issuing a warning never to bin batteries in household waste after a series of vehicle fires. There is a serious risk of fires happening in both homes and Household Waste Recycling Centres (HWRC) if batteries aren't disposed of properly.
There are three simple ways residents can reduce the risk of fires:
Never put any kind of battery into your wheeled bins
Use the Council's separate battery recycling collection, take batteries to supermarkets, or to a HWRC (please let staff know of any batteries when you arrive)
Remove all batteries from old electrical or battery powered items before recycling electricals using the separate small electrical recycling collections. If you can't remove the battery out of an item, if it fits in a carrier bag – this can go with the separate electrical recycling collection, if it is too big – please take this to your nearest HWRC.
Battery fires can start just as easily in someone's home as they can in one of our refuse trucks or at one of our waste and recycling centres.

We want to ensure that all residents are aware of the risks of not disposing of batteries correctly and know where they can take batteries to be safely recycled. Please, let's work together to avoid risk to life and prevent any future fires.Cllr Phil Larratt, Cabinet Member for Environment, Transport, Highways and Waste
We are happy to be supporting West Northamptonshire Council in this campaign to help avoid preventable fires caused by incorrectly disposing of batteries. Batteries are safe during normal use but can present a fire risk if they are damaged, short circuited or if they are submerged in water.

The advice being given is designed to avoid fires occurring in either recycling vehicles or at household waste recycling centres. We are urging people to dispose of batteries using the specialist services available in the county and not to throw them into recycling bins or general rubbish bins.

Many people do not realise the importance of the correct disposal of batteries so this simple advice can make a real difference in preventing waste fires.Lisa Bryan, Prevention, Safeguarding and Partnerships Manager at Northamptonshire Fire and Rescue Service
Domestic batteries can be put into a small plastic bag and tied to the handle of your wheeled bin for safe collection and recycling. Please put them on the following bins:
Blue lid recycling bin in Northampton
Black lid general waste bin in Daventry
Either bin in South Northamptonshire
To find out more details of where you can recycle household batteries visit our battery disposal page.