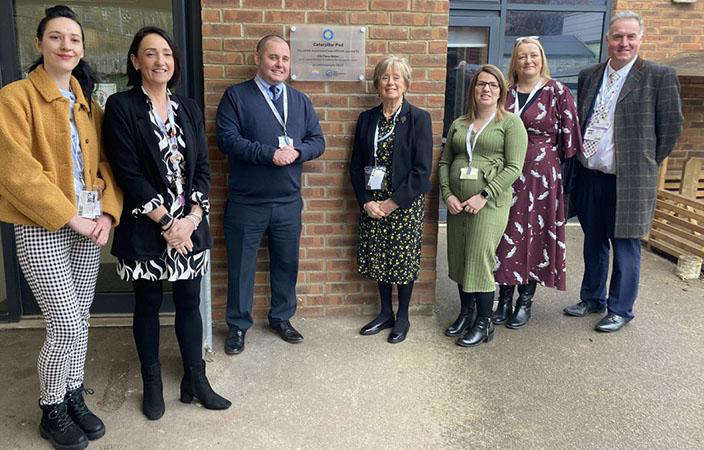 More children in Northamptonshire with special educational needs will be able to access specialist support with the official opening of a new SEND department.
The new provision, called Caterpillar Pod, is based at Castle Academy and offers 10 places for pupils in Key Stage 1 with social and communication difficulties.
It follows the opening of a SEND department at Hardingstone Academy, called Butterfly Meadow, for Key Stage 2 learners. Both schools are part of East Midlands Academy Trust.
A special plaque to mark the official opening of Caterpillar Pod at the school was unveiled today (24 February) by Cllr Fiona Baker, cabinet member for children, families and education at West Northamptonshire Council.
"The additional provision the Caterpillar Pod brings to children with special educational needs and disabilities is fantastic, providing a new, high-quality education department that is best suited to their needs.

"I am really pleased that together with Castle Academy, we are able to offer these additional 10 places for children with social and communication difficulties. These additional places further contributes to WNC's commitment of increasing SEND provision, helping to ensure every child and young person has access to the best available education and learning."Cllr Fiona Baker, Cabinet Member for Children's, Families and Education
"It has been a real pleasure to welcome our first pupils into Caterpillar Pod and see how well they have settled into our school.

"We know there is a real demand in Northamptonshire for more places for children with additional needs and so we are delighted to have this new provision at Castle Academy to help some of those pupils requiring more specialist teaching and learning.

"The staff in our department are fantastic at what they do, and I can't wait to see how the pupils in Caterpillar Pod develop and thrive with their support."Castle Academy Head of School Daniel Lugg