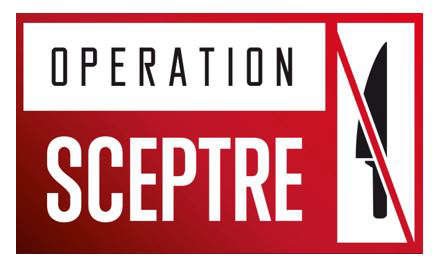 Officers and staff from Northamptonshire Police are joining colleagues from across the UK to prevent and tackle knife crime, as part of the national Operation Sceptre week of action.
Knife crime is a matter of priority for the Force, and this week of action coincides with the visit of the iconic 27ft tall Knife Angel statue to the county, which arrived in Northampton on Friday, April 29.
The statue is made from 100,000 blunted blades handed into more than 200 knife amnesty bins and police forces from across the country, including those handed in to Northamptonshire Police.
The artwork, created by Alfie Bradley at the British Ironworks Centre at Oswestry in Shropshire, features messages from families of victims of knife crime engraved on the sculpture's wings.
After two weeks in Northampton, it briefly stopped off in Wellingborough on Friday (May 13), before moving on to Corby, where it will be the focal point in the Willow Place Shopping Centre until Sunday, May 29.
Operation Sceptre, which starts today (Monday, May 16), will see an intensification of this work which takes place in Northamptonshire and across the UK day in, day out to tackle knife crime.
The week of action provides an opportunity for officers and police staff to continue their hard work to reduce knife crime in the county, enabling them to focus on the different strands of education, engagement, prevention, and enforcement.
Engaging with retailers, schools and charities will be an important part of the week through community engagement events, educational talks and school visits, knife amnesties and patrols of hotspot areas.
Operation Sceptre will also target the root causes of knife crime, and officers and police staff will be utilising knife arches as well as carrying out weapon sweeps in our local communities to stop those intent on carrying a knife in the first place.
Most importantly, working with our partner agencies and the support of our local communities, the week aims to educate people on the dangers and illegality of carrying a knife as well as highlight that there are no positives in doing so.
Northamptonshire Police knife crime lead, Chief Superintendent Adam Ward said: "Knife crime remains a priority for the Force, and it is important that we continue to build on the foundations to prevent and tackle this type of offending.
"We tackle and prevent knife crime daily however, Operation Sceptre is another opportunity for us all to work together to reduce the risk and harm caused by knives through engagement, education, prevention and enforcement, and make sure the next generation understands the risks of carrying a knife.
"Having the Knife Angel visit is a real honour, and its shear presence will provide the ideal opportunity for us, along with our partners, to continue to engage and educate our young people and the wider communities.
"It's always important to remember that most of us do not carry knives and will probably never be affected by knife crime – which is why it's important to dispel the myths around carrying a knife.
"Sadly, we have also seen the harm caused to families and communities through the tragic loss of life relating to knife crime. It is devastating, which is why we will continue to prosecute those who carry knives.
"The enforcement and proactive work we do is only one part of the solution to this issue. We all have an important role to play in tackling and preventing knife crime by raising awareness of the consequences and dangers of carrying a knife.
"We would encourage parents and carers to talk to their children about the hazards of carrying a knife and we would ask anyone with information about somebody in their community they think may carry a knife to get in touch with us."
Find out more about how Northamptonshire Police is preventing and tackling knife crime here.
If you have any information or concerns about knife crime in your community, you can report non-emergency crime to 101, visit www.northants.police.uk/RO or call Crimestoppers anonymously on 0800 555111. In an emergency always call 999.