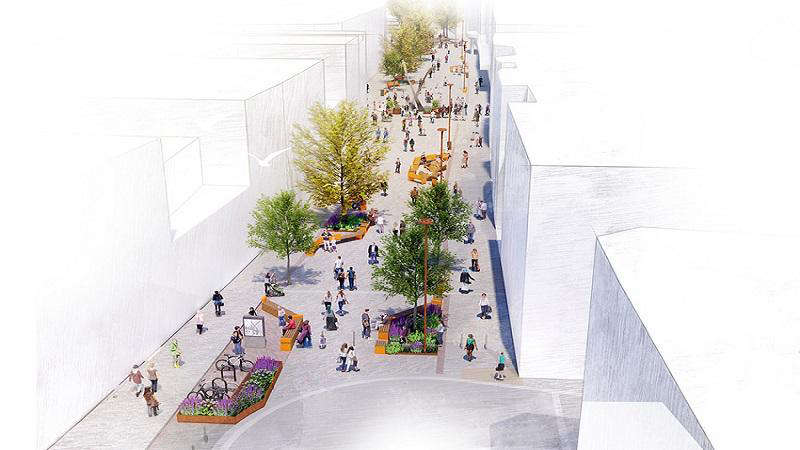 Residents, businesses, and community groups are being invited to have their say on plans to redevelop the public realm at Abington and Fish Street in Northampton Town Centre. 
As part of a public consultation West Northamptonshire Council (WNC) is seeking views on the outlined proposals to improve the appearance and paving of Abington Street and Fish Street.
As part of the plans, the project will positively revitalise one of the busiest commercial and pedestrian routes through the town's main shopping street. It will provide improved pedestrian access, new seating, planting, outdoor dining space and encourage community activity.
The redevelopment will complement the wider regeneration of the town centre, including the Market Square Transformation transformation, and provide enhanced connectivity with the rest of the town.
From Friday 4 March until Thursday 6 April, everyone is invited to have their say on the plans. People can complete an online survey or drop into the following public engagement events where they can see the plans and discuss them with the officers and architects working on the project. These will be held on:
• Friday 17 March 10am to– 4pm at the Grosvenor Shopping Centre, 2 Union Street, Northampton NN1 2EW
• Saturday 18 March 10am to -4pm at Northampton Museum, 4 to -6 Guildhall Road, Northampton NN1 1DP
Cllr Dan Lister, Cabinet Member for Economic Development, Town Centre Regeneration and Growth, said:
Our design is intended to help this area adapt to the changing face of the high street by encouraging cafe culture and creating more appealing and flexible surroundings for visitors and those who live in the town centre.

The enhanced features and appearance, as well as new facilities will offer a fantastic space for people to use and enjoy. I would encourage everyone to take the time to come along and speak to the team about the proposals or provide their views via the online consultation.Cllr Dan Lister, Cabinet Member for Economic Development, Town Centre Regeneration and Growth
To find out more about the proposals and have your say, visit https://www.westnorthants.gov.uk/regeneration