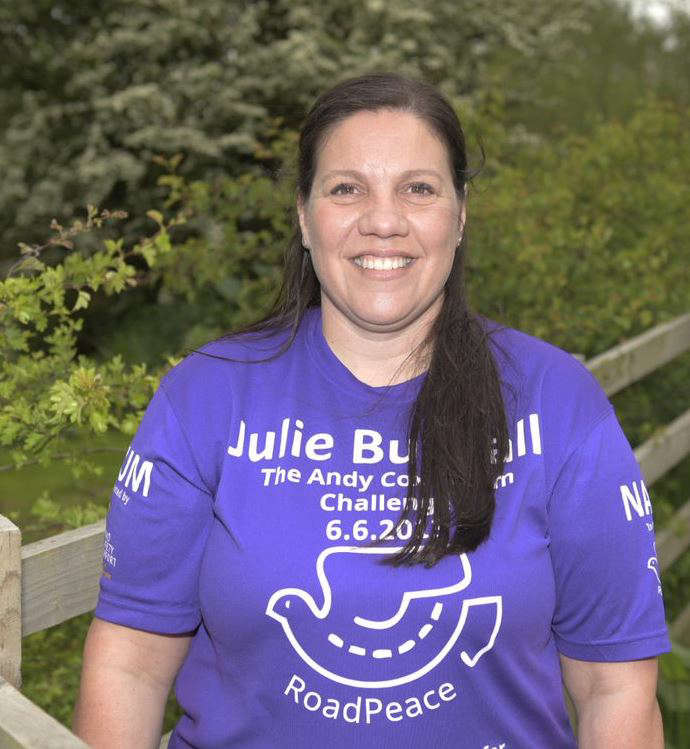 Officers from the Northamptonshire Road Policing team have pledged their support for a national road safety campaign designed to raise awareness of the road death endemic in the UK.
The RoadPeace Andy Cox Challenge 2022 aims to drive home the message that a staggering five people die and more than 60 are seriously injured on average on the UK's roads, every single day.
So far, between January and April this year, officers from Northamptonshire Police Serious Collisions Investigation Unit have attended collision involving 11 fatalities and 19 serious injuries.
Starting on Monday (May 16), Detective Chief Superintendent Andy Cox, from Lincolnshire Police, will cycle and run 30 miles a day, travelling across the UK on routes where fatal and serious road collisions have occurred, joined by a variety of supporters along the way.
The event will raise vital funds for the road victims' charity RoadPeace, but more crucially, it will aim to get the public talking about road deaths and the devastation they cause to families and communities every day.
The week-long campaign will also be supported by around half of the 43 police forces across the UK, including Det Ch Supt Cox's former Northamptonshire colleagues, with each force choosing its own challenge for the week.
Leading the charge on behalf of the Force is Road Crime officer, PC Emilie Bunkall, who knows first-hand the devastating impact road deaths can have on loved ones after her mum Julie was tragically killed nine years ago.
In memory of her mum, who died in a road traffic collision on June 6, 2013, Emilie has pledged to complete nine miles each day of the campaign, which means she will have covered a staggering 63 miles by Sunday, May 22.
Emilie will jog, cycle or walk each of the seven different routes across the county, which have all been the location of a road death, including her mum's last journey from Kettering General Hospital to the A6 at Burton Latimer.
Emilie said: "I've worked in roads policing since 2006, and in my role as a family liaison officer, I supported families who had lost their loved ones in a road collision.
"On June 6, 2013, my world shattered when on duty, I heard over the police radio that my beautiful mum had been killed in a collision. I found myself walking in the footsteps of those I had supported, and for the first time truly felt their heartbreak.
"She was returning from taking a family friend to a hospital appointment when a car crossed the carriageway on the A6 at Burton Latimer and collided with her car head on. There was nothing she could have done.
"Her friend broke nearly every bone in her body in the collision, and although she thankfully survived, for the past nine years she has lived with life changing injuries in addition to survivor's guilt.
"As you can imagine this was heart breaking and life changing for us all. I couldn't believe I was walking the road I had guided so many families through. The deeper understanding of the trauma and day-to-day reality was far harder than I had ever imagined.
"The last nine years has been a difficult journey for me and my family, a journey I am still very much on. I thought I could no longer be an officer, but my mum was incredibly proud of my traffic role, and this has given me the strength to continue and play my part in road safety."
Throughout the challenge Det Chief Supt Cox will call upon society, government, vehicle manufacturers and others to give the prevention of road crime the priority it deserves, to reduce the needless deaths and injuries - which have remained largely unchanged for the last decade.

Det Chief Supt Cox said: "More people die on the UK's roads than through murder and terrorism combined, so it's time for us all to start taking road danger as seriously.
"Road policing is a challenging job and all too often we are the ones dealing with the devastating and horrific consequences of dangerous, reckless and selfish drivers. We're very much on the side of bereaved families and safe and sensible drivers.

"On occasion, we are frustrated by a sometimes-negative preconception around our role in preventing road danger, such as criticism of speed enforcement. I hope this challenge will give a fresh perspective about how the policing family views this issue and help the public to fully understand the link in tackling road crime and saving life.

"Fundamentally I hope the challenge leads to improvement in driving standards and culture and a commitment from every relevant agency to step up their determination and action to tackle road danger."
You can follow Emilie's progress each day throughout the campaign on the Force's social media channels by using the hashtag #AndyCoxChallenge. Or if you would like to support Emilie and help raise money for RoadPeace via Emilie's Just Giving page.