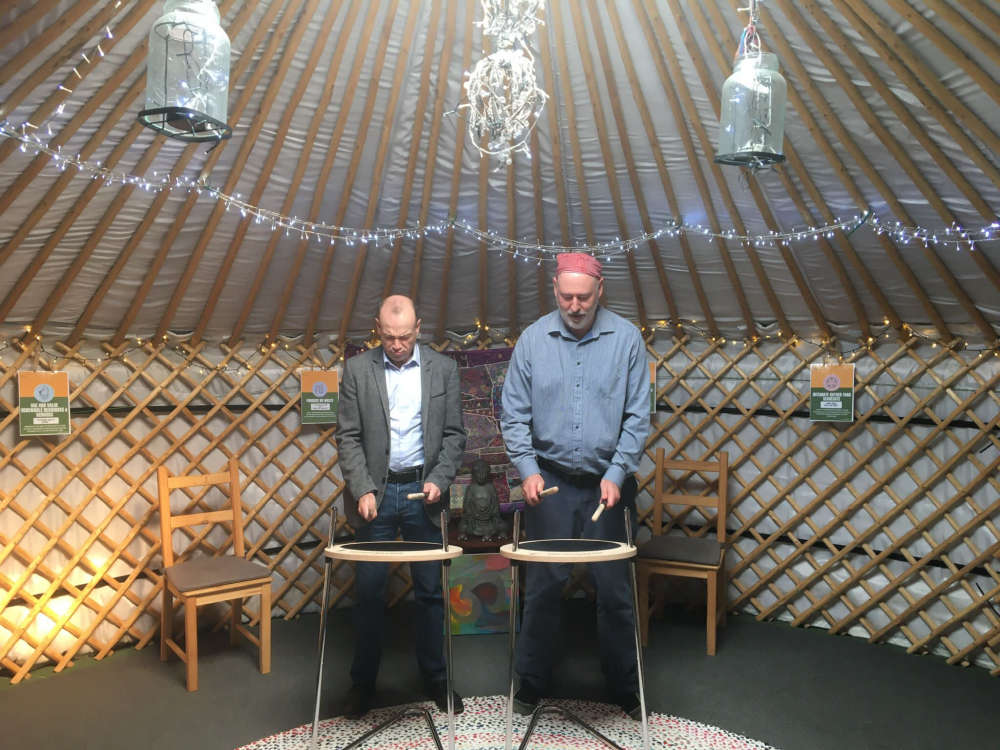 Sol Haven will be providing a drumming therapy experience session at Headfest during Mental Health Week from the 9th to 15th of May
A local business which which has delivered wellbeing events to more than 500 people and recently received the "Points of Light" award from Prime Minister will be providing a drumming therapy experience session at Headfest during Mental Health Week from the 9th to 15th of May
The full schedule for the week along with details of how to book on to a session, can be found on the Royal and Derngate site HeadFest '22 - Royal & Derngate
Sol Haven was launched in Moulton by Natasha Caton and Sammuel Yisrael who have experienced both homelessness and issues with mental health. Together they created a project that could help people grow and recover from adversity.
Earlier this month, Daventry MP, Chris Heaton-Harris visited the project. Whilst on the farm, he experienced the drumming therapy lead by Sammuel Yisrael which will feature in BBC Northampton's "Headfest" and made the following comment about his visit:
'It was wonderful to visit and have a tour of Sol Haven in Moulton and meet Natasha and Sammuel. With incredible hard work and dedication, they have created an inspirational venue in a little corner of my constituency, that helps so many people.
'I learnt about how Sol Haven engages with nature and the environment to encourage personal growth and healing, especially with mental health. They have an amazing hands-on approach and gently encourage all who are there to get involved. I enjoyed having a go at drumming therapy! Congratulations to both of them and all their staff.'
Natasha said: '"Points of Light" is an important initiative and we're honoured to be considered as "outstanding individuals" by those working in Parliament, including the Prime Minister and our local MP, Chris Heaton-Harris.
'We're delighted to offer vulnerable and homeless individuals a safe working environment to learn, grow and reach their full potential.'
The recognition coincides with Sol Haven launching their new wellbeing course 'Ploughing The Mind' which has been supported by the National Lottery Community Fund.
The 12-week course helps people struggling with their mental health to reconnect with the community, themselves and make new friends.
Activities include nature and horticultural therapy, mental health education, movement meditation, cooking and of course, the drumming therapy that Sammuel will showcase in Mental Health Week.
Following the completion of the programme Sol Haven will look to continue to support people in a wider programme.
Visit: https://slhavens.co.uk/