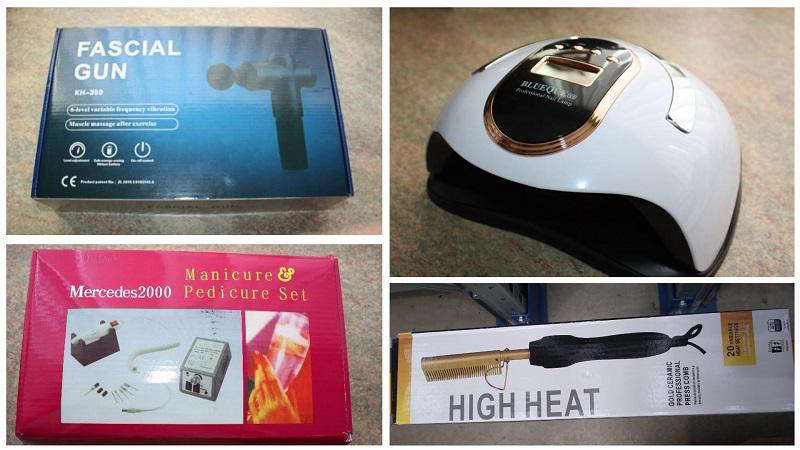 Nearly 2,000 unsafe electrical products have been removed from sale and are set to be destroyed after intervention by our Council's Trading Standards team.
The items, including a range of electrical beauty products as well as induction cookers and heat lamps, were found in a fulfilment warehouse in Northampton.
Their discovery followed a tip-off from Suffolk Trading Standards, who detained a consignment of similar items at the Port of Felixstowe that were bound for the same warehouse.
The goods found at the Northampton warehouse included 757 nail lamps, 456 Electric combs, 224 manicure and pedicure sets, 201 induction cookers, 177 facial massagers, 104 sets of hair straighteners and 72 heat lamps – all posing serious risk to the public as a result of various safety issues including faulty wiring, non-compliant fuses or counterfeit plugs.
There were no adequate instructions, and the products did not carry the correct markings or arrive with the proper paperwork and test certificates as required by law.
All of the items were removed from online sale immediately following their discovery and will now be destroyed.
Our Trading Standards team works all-year round to protect residents in West Northants and further afield by preventing the sale of unsafe and illegally imported goods.

Importers are responsible for ensuring products comply with product safety legislation, and it is a criminal offence to supply an unsafe or non-compliant product.

These items posed a serious risk of electrical shock or overheating to anyone unfortunate enough to purchase them, so I am delighted they have been removed from sale thanks to the swift actions of our team.

It is also a great example of how Trading Standards teams across the country work in partnership to share intelligence, expose wrongdoing and protect the public.Councillor David Smith, Portfolio Holder for Community Safety and Engagement, and Regulatory Services
If you have purchased a product that you think may be unsafe, stop using it immediately and report it to Trading Standards via Citizens Advice Consumer Service on 0808 223 1133.