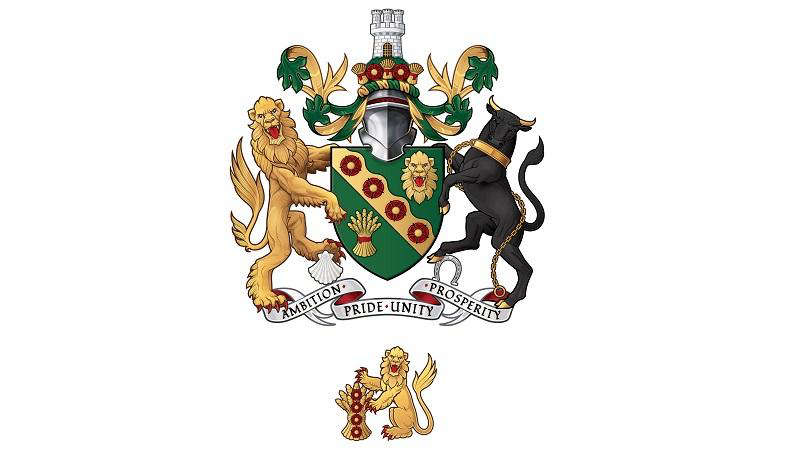 A new Coat of Arms for West Northamptonshire was unveiled at last night's Annual Council meeting to officially symbolise and celebrate civic pride across our area.
The heraldic design has been officially granted to West Northamptonshire Council (WNC) and will promote the new authority area, which was created on 1 April 2021 as part of the biggest reorganisation of local government in the county for nearly 50 years.
In line with strict royal tradition and procedure, the Coat of Arms has been hand-drawn and granted to West Northamptonshire Council by the College of Arms, a centuries-old authority which acts for the Crown on all official heraldic matters.
In a highly traditional process that has taken nearly two years to complete, the Arms have been granted by the Kings of Arms, the three senior Officers of Arms, who act on behalf of the Crown and were subject to the approval of the Earl Marshal, who has overall responsibility for the College of Arms within the Royal Household.
The design has been specially drawn to reflect and represent West Northamptonshire's proud history and heritage, taking a number of elements from the Coats of Arms of the former Northampton Borough, Daventry and South Northants districts and county.
The new Coat of Arms was presented to Council last night by Councillor André González De Savage, the outgoing Chairman of West Northamptonshire Council and Cllr John Shephard, WNC's new Chairman for the year ahead.
"We are honoured to be granted a Coat of Arms for West Northamptonshire. As a new authority bringing together communities of the previous districts and boroughs, it will play a really important role as we continue to develop our new identity of West Northamptonshire and promote civic pride and a sense of place and belonging among residents."Cllr González De Savage
"Our new Coat of Arms is not only an official symbol of authority for West Northamptonshire but is also a powerful statement of local patriotism and how our area is deeply rich and rooted in tradition, history, and heritage. It is an emblem for all of us to be proud of and we hope residents across our area will fully embrace it as part of the true identity of living in West Northamptonshire."Cllr Shephard
Key elements of the Coat of Arms include the following:
• A Golden Lion, taken from the arms of Northampton, with a scallop shell on its foot in reference to the arms of the Spencer family who have owned Althorp for 500 years
• A Black Bull, from the county council arms, signifying Edward IV's historic marriage at Grafton, with an iron collar representing agriculture, leatherwork and shoemaking and a horseshoe at its foot in reference to the area's history of metalworking, horseracing at Towcester and horsepower of the motorcars at Silverstone.
• A crest featuring a white castle from the arms of Northampton, on a ring of red roses symbolising county history and wheatsheaves representing the area's many rural settlements and agricultural heritage
• The shield features four traditional rose symbols of Northamptonshire representing Daventry, Brackley, Towcester and Northampton, wheatsheaf for agricultural heritage and a lion's face in allusion to the lions in the respective arms of Northampton and South Northants and the common seal of Brackley. Lines across the shield represent Watling Street (straight) and Grand Union Canal (wavy).
The green and gold, considered interchangeable in heraldry, also reflect the colours used by the previous district and borough authorities alongside the traditional county red rose of Northamptonshire.
Find out more about WNC Coat of Arms on our website.