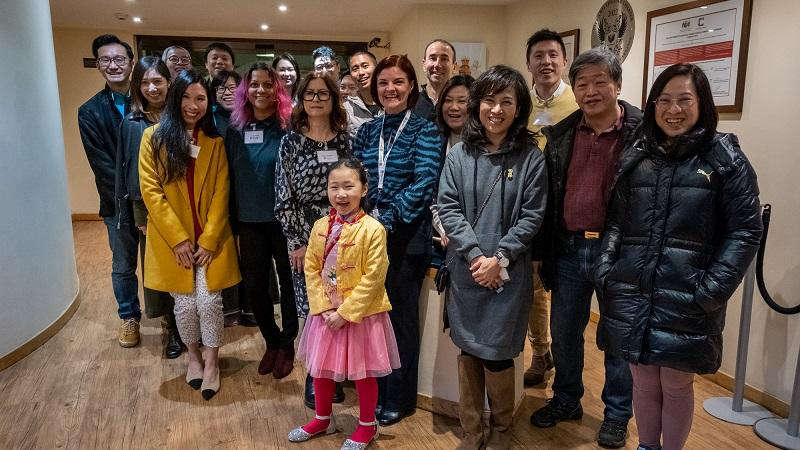 West Northamptonshire Council has welcomed a new community to Northampton and surrounding areas with an event at the Guildhall.
Supported by East Midlands Councils and funded by the Department of Levelling Up, Housing and Communities, the event took place on Saturday, 14 January 2023, to welcome members from the Hong Kong British Nationals (Overseas) community to the county.
Approximately 300 Hongkongers attended the event, which included speeches from Vice Lord Lieutenant, Morcea Walker MBE and Chairman of West Northamptonshire Council, Cllr André Gonzalez de Savage.
The event also included a series of games and activities for families to enjoy, hosted by the local group Northamptonshire Hongkongers.
West Northants is an incredibly welcoming place and I'm proud to see members of the Hong Kong community becoming integral and valued members of our local communities.

I would like to extend a very warm welcome to all Hongkongers - we are very fortunate that you have chosen Northamptonshire as your home, and we hope that you benefit from accessing the wealth of opportunities on offer here.Councillor David Smith, Cabinet Member for Community Safety & Engagement and Regulatory Services
Since the Hong Kong British Nationals (Overseas) visa was introduced in January 2021, there has been approximately 5,000 Hong Kong migrants choosing to make the East Midlands their home, many of whom have chosen to lay down roots in and around Northampton.
We come here seeking hope. We are looking for an ideal home. You need to change the pot for a tree during the growth process, otherwise, the roots cannot get the nutrients and space they need to grow.

The UK is an ideal home for us to grow bigger. The UK has a well-rounded government system, a good medical system, a high-quality education system, and a prosperous transportation network. We will make our utmost effort to integrate into the local culture.

We are Hongkongers. Even though Hong Kong's environment has changed, we must remember that no matter where we are or which passport we are holding. We are the only people who can define ourselves.Philip, from Northamptonshire Hongkongers
A range of information can be found on the East Midlands' Hong Kong British Nationals (Overseas) Welcome Hub, including information on housing, immigration, education, employment and more.
The East Midlands is rich in culture, historical architecture, fantastic schools and active communities – it's no wonder that so many Hongkongers are finding their home here.

Two years have passed since the first HKBNO visas were issued, and over that time, East Midlands Councils and our Strategic Migration Partnership have been working hard to assist with any barriers that may be faced when finding suitable housing, work and schools.

From launching our East Midlands Welcome Hub, to hosting events and opportunities with our partners across the East Midlands, we've assisted hundreds of Hongkongers in making this fantastic region their home and look forward to continuing to do so over the coming years.Stuart Young, Executive Director of East Midlands Councils
For more information, visit the East Midlands Hong Kong British National (Overseas) Hub