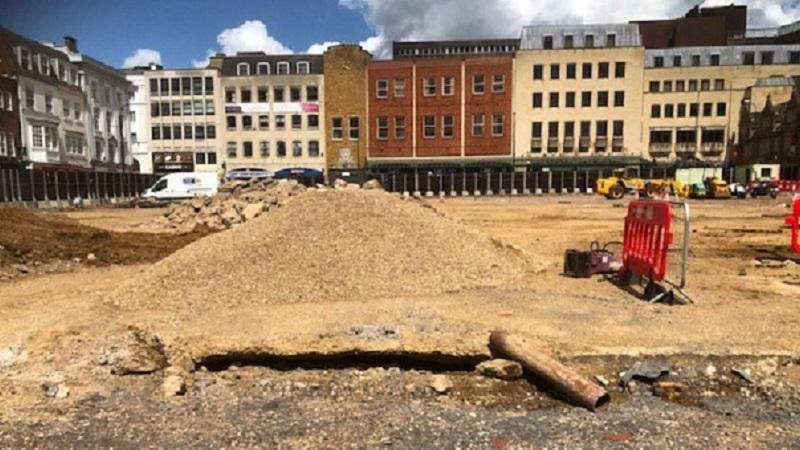 The redevelopment of Northampton's historic market square is three months into the extensive programme of regeneration works.
West Northamptonshire Council (WNC) is working with leading construction firm Stepnell Ltd to carry out a multi-million-pound project to rejuvenate the area for business, traders, residents and visitors alike.
In March, preparations works were well underway to enable construction works to take place. The existing surface has been removed with the cobbles to be cleaned and reused as part of the new market square development. Digging has commenced to achieve the levels required for the new paving and work is underway to disconnect and remove features including the old light columns. WNC and Stepnell Ltd are working with the Museum of London Archaeology (MOLA) to monitor the digging to ensure any potential findings are preserved and recorded.
Further digging and paving works will commence in early summer on the perimeter of the Market Square. This will require working closely with surrounding businesses and residents to ensure their premises are always accessible. New services and the supporting infrastructure for features such as the new lighting, fixed market stalls and water feature will also get underway in the coming weeks.
We are delighted to be making strides with the regeneration of the central market square located at the heart of Northampton town centre. Following an extensive programme of essential investigations, we are now making headway with the next stage of the construction works.

People will be able to see contractors removing the existing drainage and any existing features which can't be repurposed, and key transformation work is taking place over the coming weeks.Cllr Dan Lister, Cabinet Member for Economic Development, Town Centre Regeneration and Growth
WNC continues to work with traders to promote the temporary relocation of the market to Commercial Street Car Park. In addition to this, the Council is exploring options to support the traders and is preparing a detailed report to present later this month.
Keep up to date with the redevelopment of Northampton Town Centre and across West Northamptonshire.