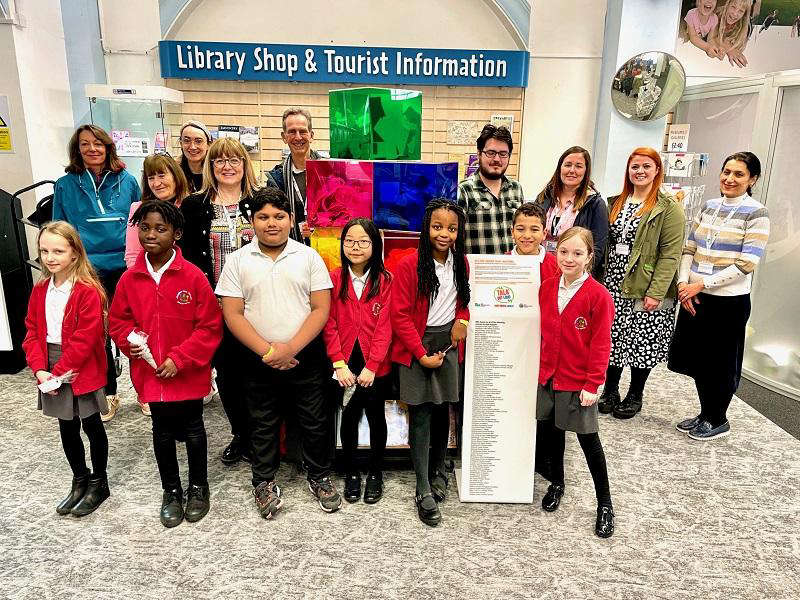 An art installation created as part of Northamptonshire's Mental Health Awareness Day has been unveiled at Northampton Central Library.
Pupils from Abington Vale Primary School were joined for the official unveiling by Portfolio Holder for Libraries at North Northamptonshire Council Councillor Helen Howell and John Farndon from the Northamptonshire TaMHS Programme
Based on the theme of 'It's the inside that matters' the installation was the brainchild of a group of young people from Northamptonshire involved in the Northamptonshire Talk out Loud Programme, to help get across the message that sometimes how we look on the outside isn't how we are feeling inside.
In these boxes there are over 20,000 feelings, gathered from children and young people across Northamptonshire, and brought together to create this installation, as part of Northamptonshire Mental Health Awareness Day 2022.

Whilst we can see through the boxes that these feelings are there; we cannot see what they are and that is why it's important to really think about how people are feeling. Because it's the inside that matters. We would like to thank the 84 schools who took part in this initiative and of course Northamptonshire Libraries for their commitment to this ongoing reminder about the importance of looking after our mental health.Programme Manager Tessa Parkinson
The installation will remain on display at Northampton Central Library until 31 March, before touring libraries across the rest of the county:
Wellingborough - April 6 to 25
Towcester - April 28 to May 26
Corby - June 1 to 20
Daventry - June 23 to July 24
Rushden - July 27 to August 15
Brackley - August 18 to September 11
Kettering - September 14 to October 10
Weston Favell - October 13 to November 6
I am particularly moved by the fact that so many youngsters took part in sharing their feelings and am delighted that this installation will be touring the County's libraries. I hope that 'it's the inside that matters' continues to prove a starting point for conversations about mental health among all ages, but particularly our young people and their peers.

I strongly believe that every young person across the county should have the opportunity to achieve good mental health and wellbeing. Northamptonshire youngsters have dealt with a series of changes for nearly two years — to their education, leisure time, to their ability to socialise with their peers or see extended family.

This was evidenced in last month's Talk Out Loud survey where a third said they were less happy than last year, citing school stresses and lockdown as key reasons. Lucy Wightman, Director of Public Health Northamptonshire
Poor mental health affects not only our youngster's social well-being, but can also impact on their physical health, which is why Public Health Northamptonshire is committed to a range of sources of help for young people. As well as The Talk Out Loud programme which runs in the county's schools, young people can access additional support services, including counselling, through the Reach Partnership.